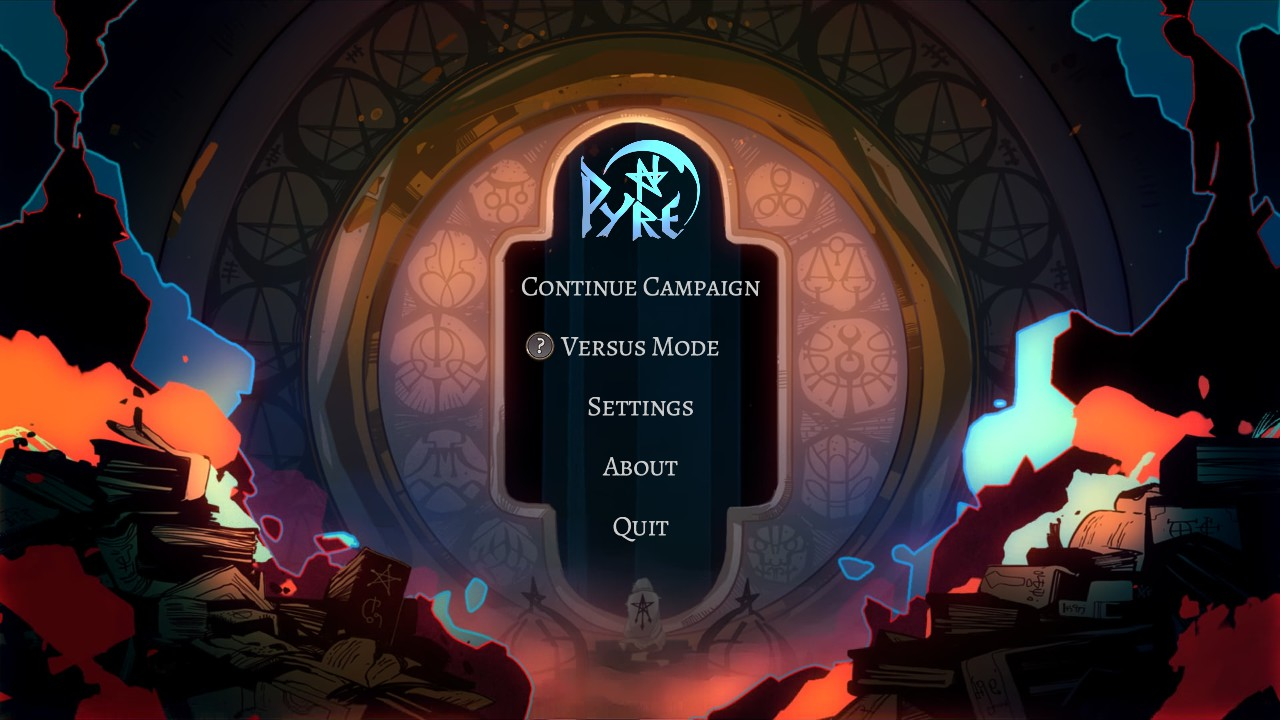 Hey kids!
Let's play
Pyre!
Supergiant Games is already awesome by virtue of their first game release, Bastion. Transistor was also a great game that I adore, but at the same time, people noticed that they were doing a lot of experimenting with the storytelling and the gameplay, and not always in ways that worked for the better. So while I imagine quite a few people were a bit surprised when they announced a game halfway between a sports sim and a visual novel, and a lot of people were disappointed, I just shrugged and said "eh, it'll be weird, but it'll be MY kind of weird."
And I was right. I've already beaten the game once, but I will be doing a stream of the game's campaign mode on Friday evenings, 6PM Mountain Time (so for the West Coast that's 5PM, for the East Coast thats 8PM). I may have to adjust this schedule for work, but expect around that time.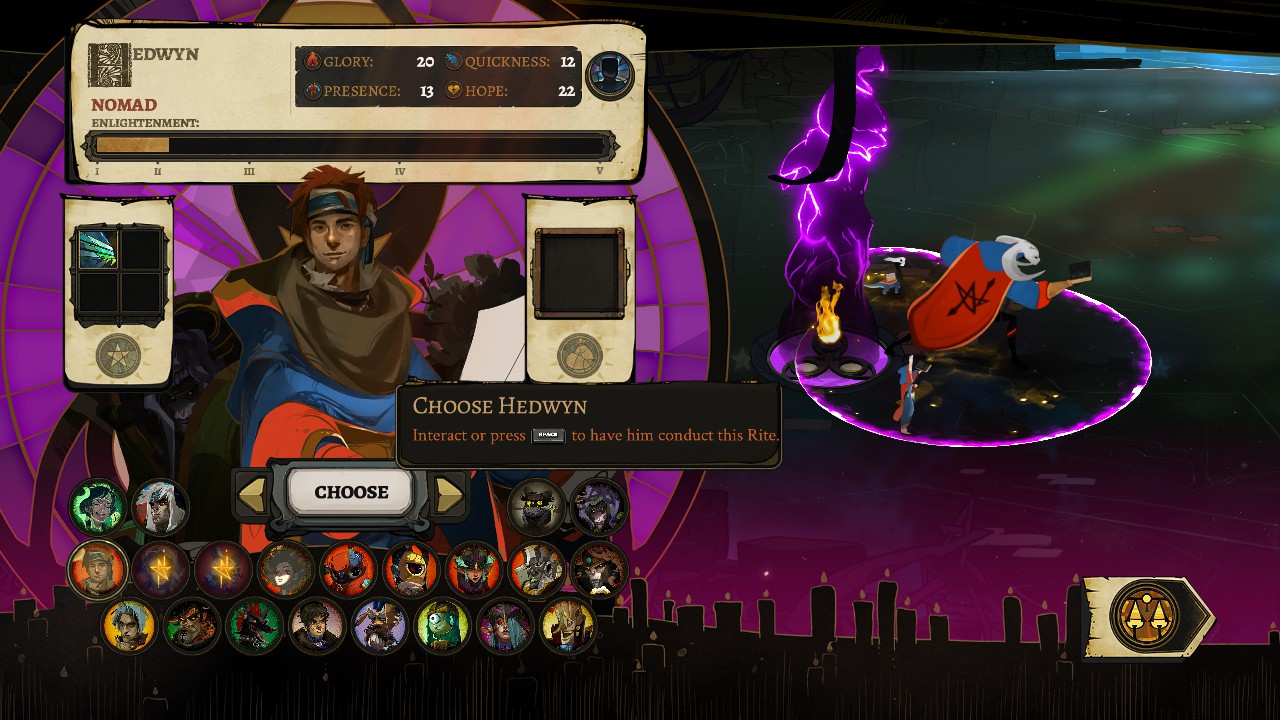 I'm going to dedicate this first post to explaining the Rites within Pyre. As mentioned, this is halfway between a sports sim and a visual novel, and explaining the sports sim part is easier.
Each triumvirate (team) is composed of three exiles, and both sides have a blazing pyre. I'm using the game's built-in couch versus mode to demonstrate this. It has couch versus mode, it's pretty cool. The stats and whatever you see here, I will explain in later posts.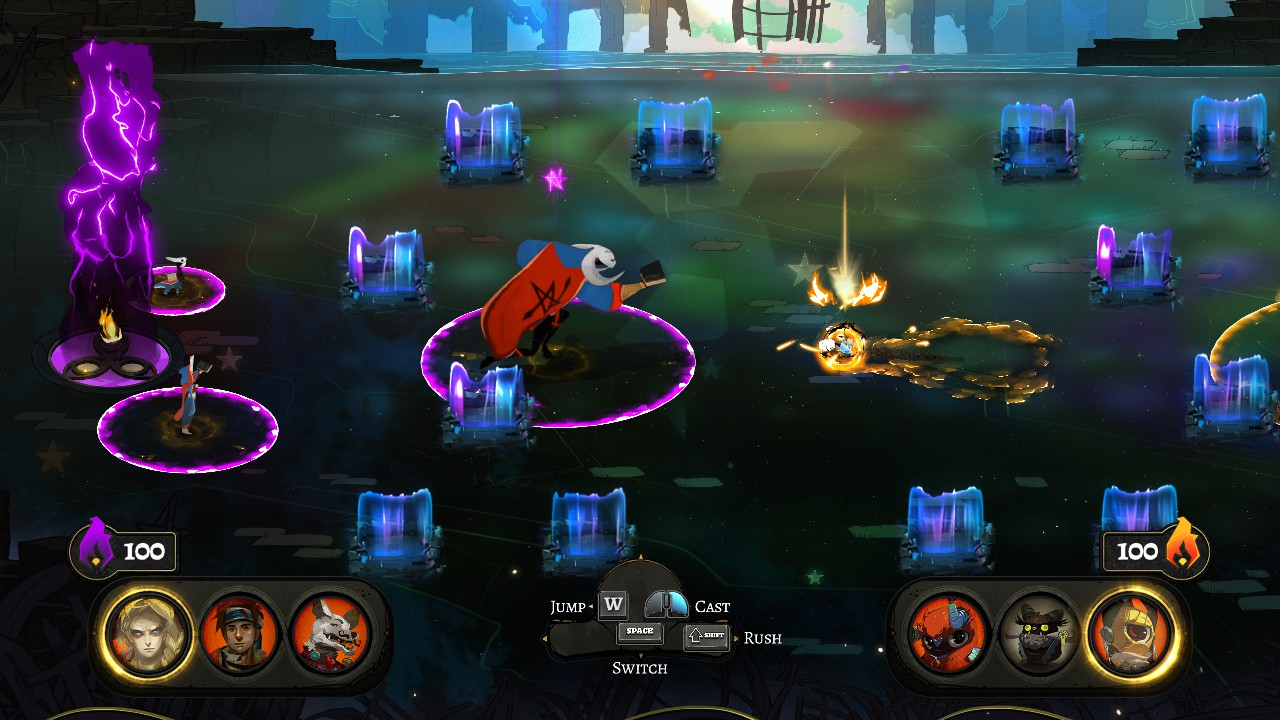 The objective of the game is simple: take the Celestial Orb that the other triumvirate's player has just grabbed, and dunk it into the other pyre. The circles around everyone are their auras: if your aura touches an opponent, they are banished for a few seconds and drop the Celestial Orb if they have it.
(Also I desperately wanted to have Madden scribbles over these screenshots, but I decided against it because explaining the game takes priority over dumb jokes for this post.)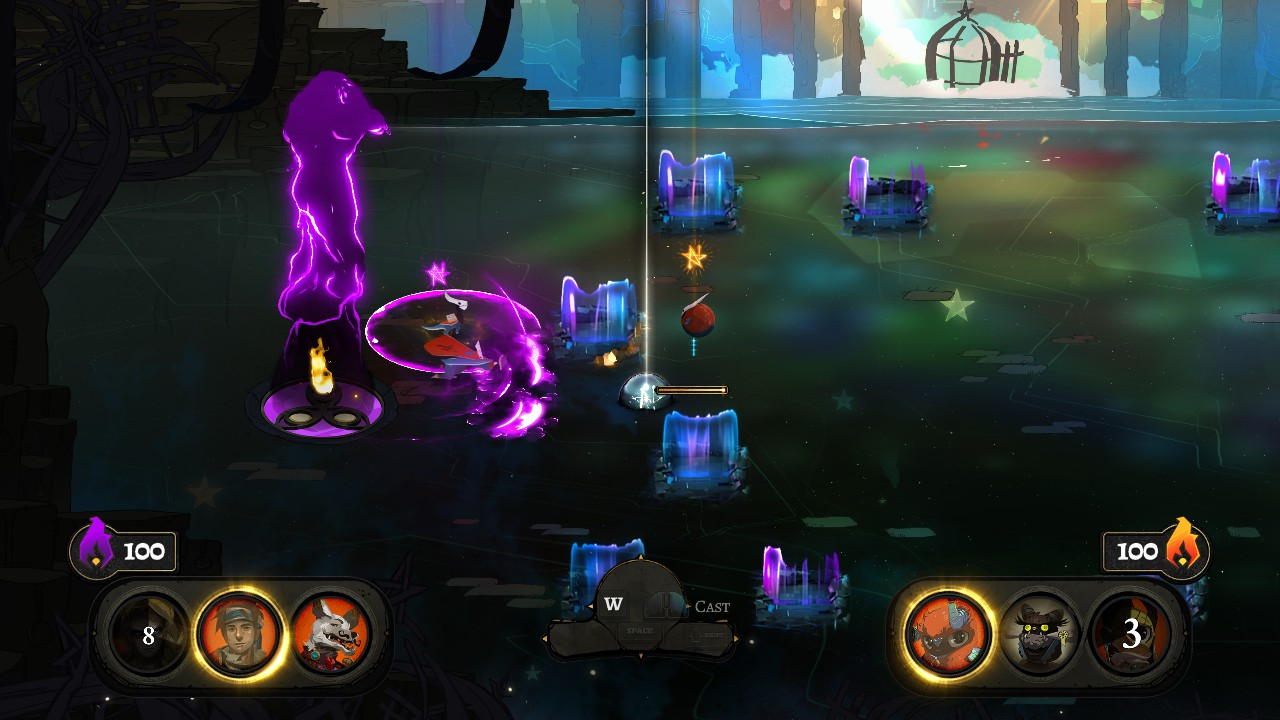 While holding the Celestial Orb, your aura is disabled, so you'll have to evade the enemy team's defenders. In addition to just having it passively up, you can cast it ahead of you as seen here: this removes your personal aura but lets you launch it further and faster, great for breaking past enemy defenders.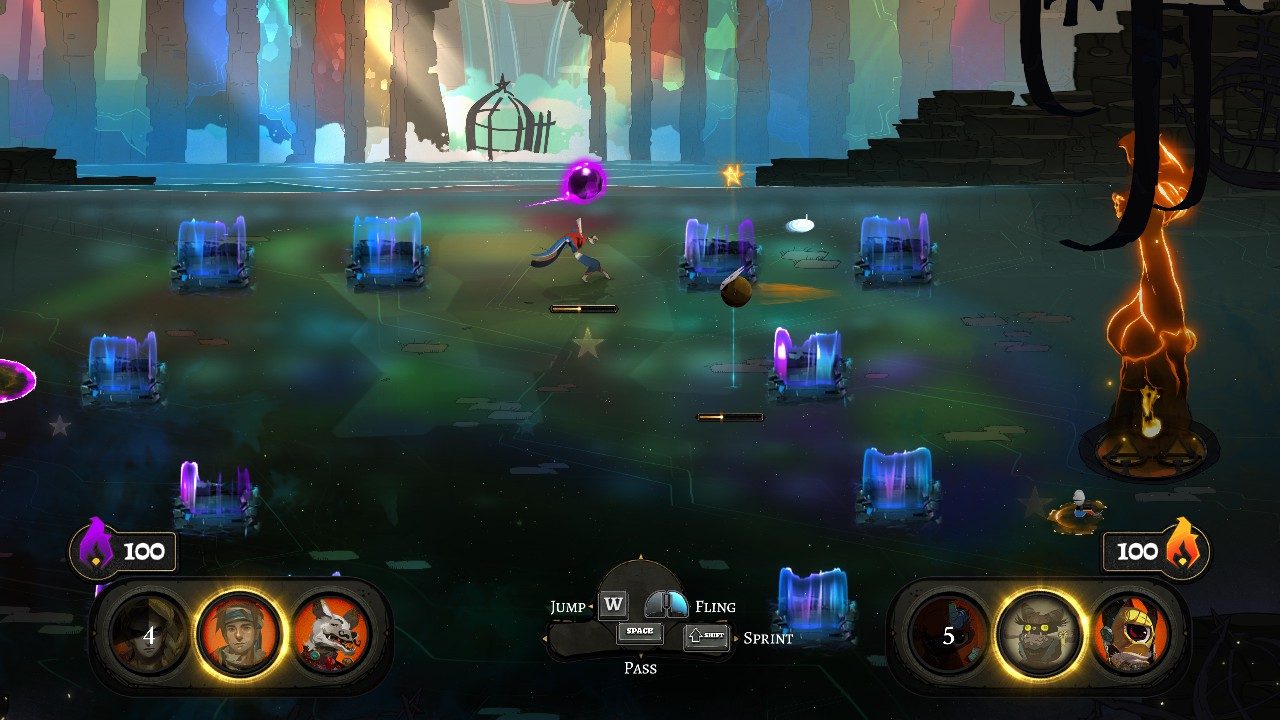 In addition to this, each player can sprint, jump, and pass the Celestial Orb to one another. You don't interact with auras while jumping, but any opponent that collides with you during a jump makes you drop the Orb, so be careful about it. Most of these actions consume stamina, as well.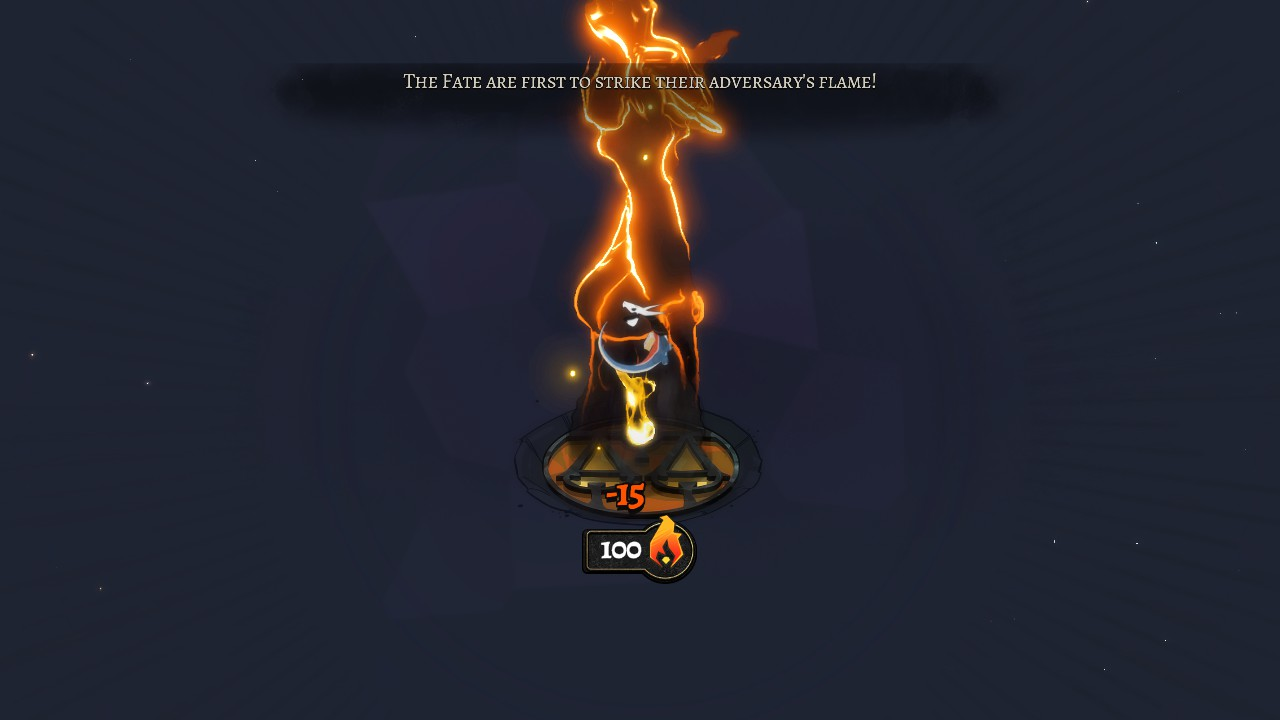 Once you get to the pyre holding the orb, you can dive in to deal it some damage. The exile that does this is banished until one side or the other scores again, so it's not always in your best interest to dive right in if you're having trouble taking their team on.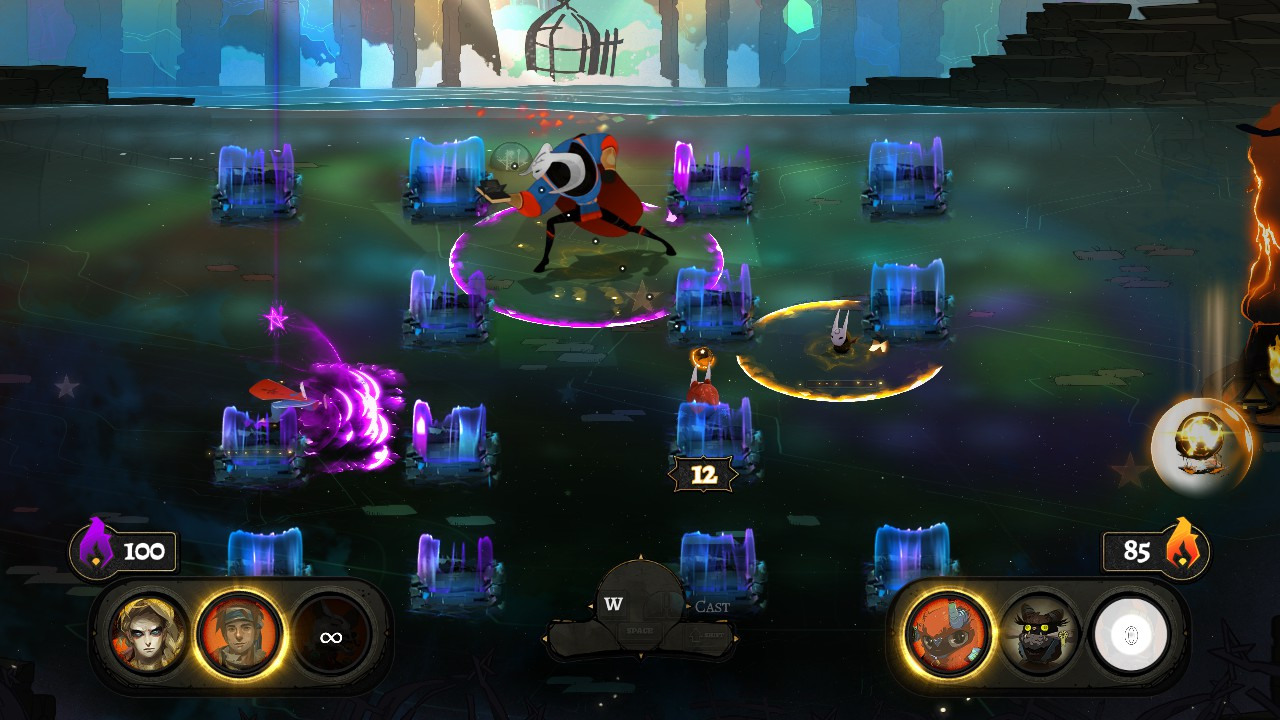 One thing worth noting is that each side can only control one exile at a time. This is a weird but intentional design choice, to limit the computer having too much of an edge by being able to finetune their AI better than the player. Additionally, whoever you switch to, if you have the Celestial Orb, will be passed it by their teammates, so once you have the Orb, you can't go on the offensive like I am here. That other exile is throwing the Orb to my exile, presumably to disable her aura and reactivate his.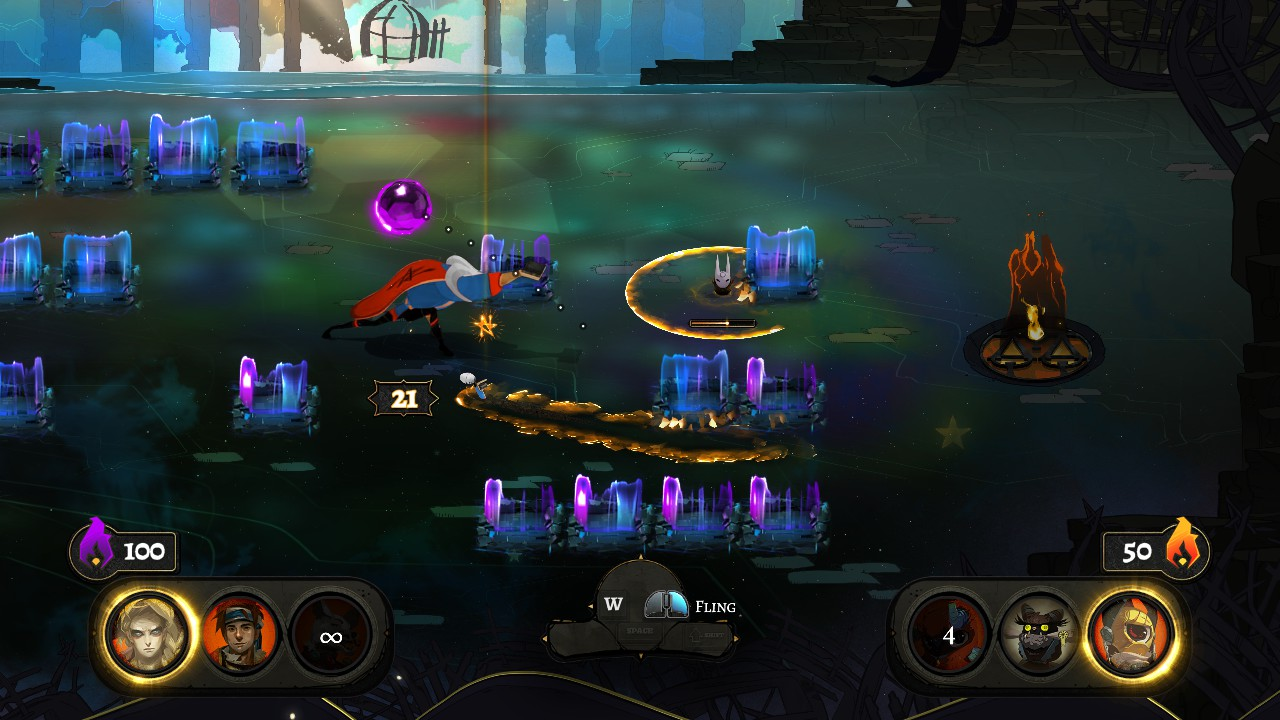 The advantage of throwing the Orb is that you don't lose your exile for scoring this way. The disadvantage is that you have to stay still and charge up your shot, and it's very easy to get chumped by the defenders unless you've banished all of them.
Really, that about covers it for the Rites. Reduce their Pyre to smoldering ash, and YUO WIN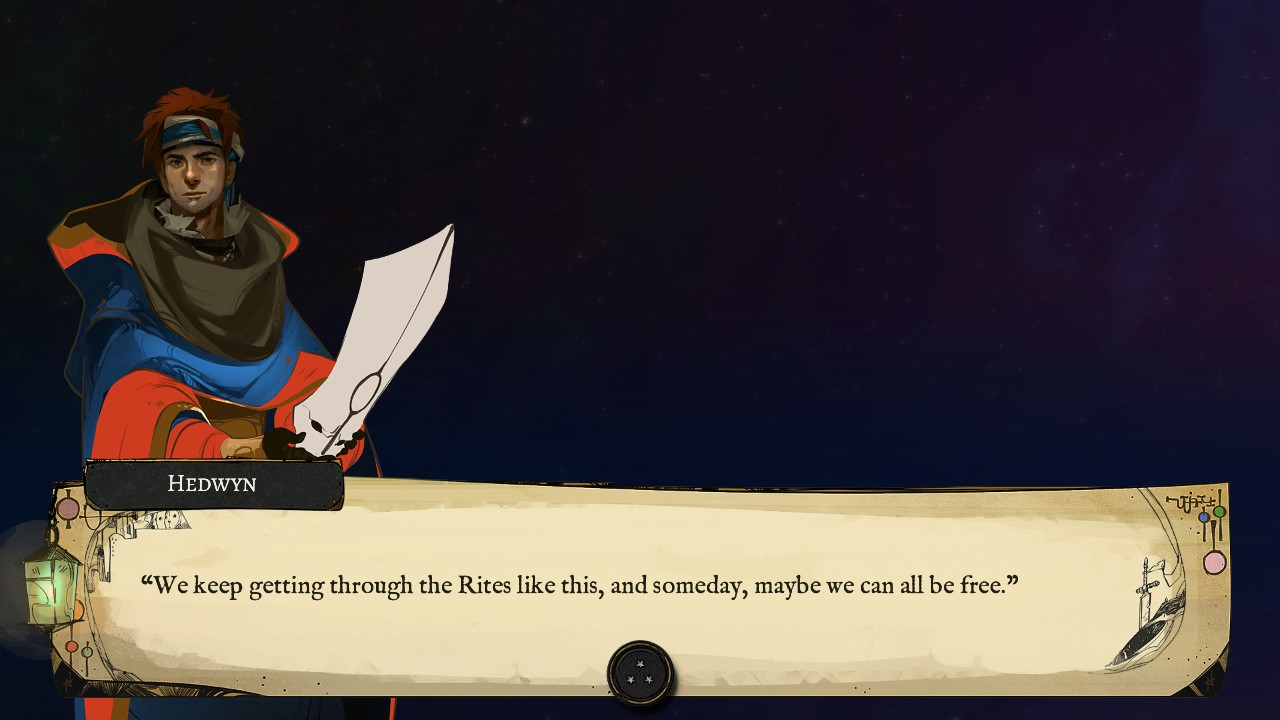 So why are we playing the Rites? Well, Hedwyn here has a bit to say about it, but we'll see more about this once we actually get into the story of the game, y'know?