14th of Slate, 152
I remember the days when my people worried little about conflict.
We had spent almost 80 years without major conflict, our last being with the goblins from the Menace of Fliers. That peace was shattered after King Unib Elisdomas was eaten whole by the Flaxen Rawness, a dwarf that once went by the name Bembul Stafflands. We had thought his return a sign of victory, right before dark magic empowering his body sent him into a feeding frenzy on our former king.
Our new queen, Urvan Squeezeirons, feels we have grown too fat on peace, although I suspect her motive may have more to do with her lineage from the former dwarven colonies of the Godly Guild. With power now in her hands, she has decided that her ancestors formers lands rightfully belong in dwarven hands.
She is unconcerned that the ones who removed the Guild in the first place--the goblins of the Terrors of Cleaning--remain nearby. Their leader Vucar Skullsurns continues to rule the Terrors with a hairy, demonic fist. With their attention currently turned to the humans of Tundraterrors, myself and six other dwarves have been ordered to establish a colony on the edge of their territory.
I don't relish the task. I have been given to the new year to get my affairs in order.
1st of Granite, 153
Our caravan, the Spiteful Game, says goodbye to our home of Oilholes, and begin what is expected to be a two week trek into dangerous territory.
We have chosen an area that believe stands a good chance of containing iron. None of my comrades are fighters, but will will eventually need and army to hold back the Terrors of Cleaning once they discover we're here. And there is no better material to achieve that than steel.
Well, almost no better material. But I learned long ago to keep my eyes on the footsteps in front of me.
18th of Granite, 153
We arrive, and park our tired mule near a small hill. The flt terrain here will make spotting visitors both friendly and hostile easy. Our preliminary tests suggest the soil is thin, but we do not require much. Stone is much more of our element after all.
Perhaps I should introduce myself and my crew.
Brickroad and myself go far back. When we were kids, we had fun playing games, pretending we were the leaders of a secret club called the Organization. While I went to study commerce, Brickroad fell back on what she was good at: mining.
I don't know TheSL well, but Brickroad recommended her when I said I could use more than one dwarf to help dig us a new home. I'm told she and Brickroad became friends due to their shared hatred for bats. She seems friendly enough.
I was surprised when Sky Render accepted my invitation to join our crew. She always seemed so busy, but I could use a jack-of-all-trades like her. Sky Render claims to be proficient in Carpentry, Masonry, Mechanics and Building Design, although certainly is an expert in none. That is fine with me; until Mountainhomes can send us some new workers she is exactly what I need, when I need it.
Unlike the rest of the dwarves, Mogri asked *me* to join the caravan. She said she finds the whole idea of adventure exciting, although I warn her that I want her properity to not be adventure, but to keep plump helmets growing. We've brought some food and drink, but it won't last forever.
Alixsar is a bit of a grump, but he has two qualities I required. The first is that he is a pretty decent cook and brewer. The second is that he was willing to join our little merry suicide mission. It was literally only last month that he accepted! We're lucky to have him.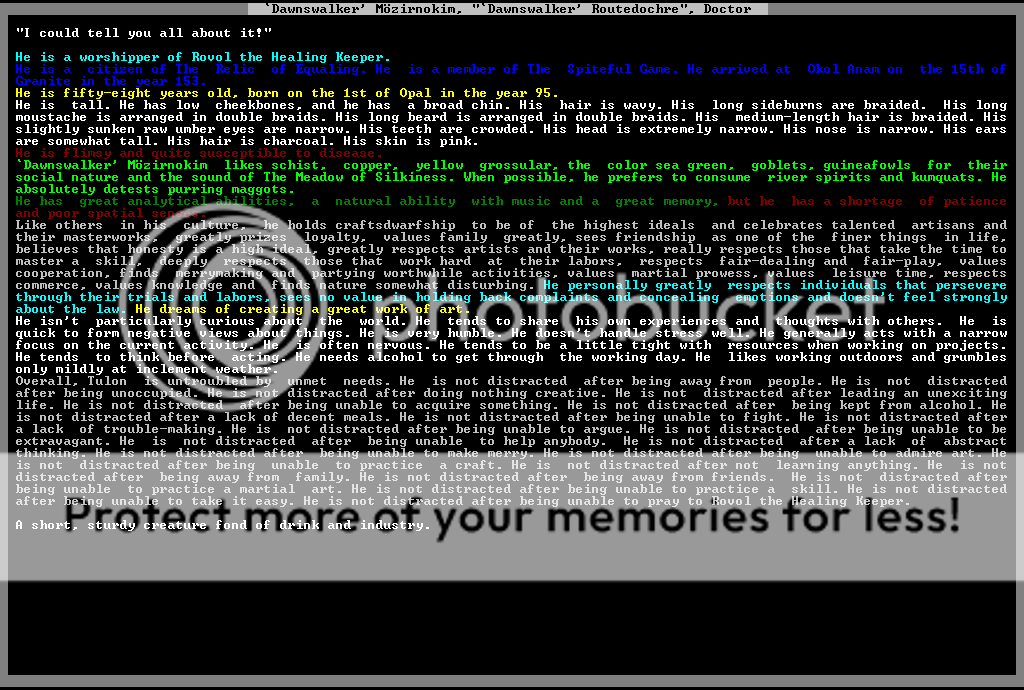 And finally, our medic, Dawnswalker. He is just out of dwarven medical school, and told me that he expects our future hole in the ground to be good hands on training experience. He is uncertain if he wants to be a medic forever, but is hoping if things go well he can open a school.
Oh, and last but not least...
Me.
As Brickroad and TheSL start grabbing their copper picks, I take the time to roll out my plans:
We'll dig a path large enough for visiting caravans deep into this hill. A high priority will be creating a drawbridge to keep unwanted visitors out, and this will give us some room to put barracks and traps down if we need to.
At the end of the hallway we'll have stairs down into our fortress. I've told TheSL to dig a room out to the east to hold a temporary dormitory for us all. Once we have proper lodgings, we'll turn it into a small office for me to use when caravans arrive, as well as a place to store trade goods.
I'm hoping this is all sand, at least on the first level. Once we dig deeper we can hopefully dig space for a farm so Mogri can start planting.
Immediately below, we'll have the bulk of our craftdwarves, woodworkers, masons, jewelers, and more will gather. Below that...
Storage space. We'll keep goods such as cloth, gems, leather, metal bars, etc. here. I've also pencilled in a space to the south for a hospital. Where this exactly goes is likely going to depend on how easy water is to find, but it's as good a place as any for now.
Below that...
More storage space! I plan to store more of our wood and stone here.
Our next floor will be for our temples. I am also planning this floor to contain some space for offices and private dining rooms.
Plans for a grand dining hall lie below our temple area, with sufficient space to store food and booze. We'll put our kitchens and stills here in easy reach of all those plump helmets Mogri is sure to make.
Next we have our living area. I suspect morale will be a constant worry, so I've ensured that each dwarf recieves a sizable space to call their own. Included in this are seven larger rooms for myself and our caravan. I've also outlines two larger rooms for future needs.
Our penultimate floor will be our tomb. The thinner recesses--and by the grace of Stettad I hope we don't need them all--will be for the general populace. The larger chambers will be for those who died exceptional deaths.
Our final floor will hold both a refuse pile, and space for jail cells. I believe keeping our citizens in doors will be crucial, and am mulling plans to efficently dispose of ny corpses. For now, corpses will go outside.
Beyond our home we'll dig for riches in order to fuel our colony. We'll initially start by digging 10 "floors" down. Hopefully if there is some sort of flux stone we can use to make steel, we'll find it. Our first order of business once we've sufficently dug out enough space above will be finding water; all of the pools around here are stagnant, and Dawnswalker says that makes them unsafe to drink.
I order Sky Render to fell some trees while Mogri and Dawnswalker start hauling our caravan's load. I grab a pickaxe myself to help Brickroad and TheSL: we must work quickly.