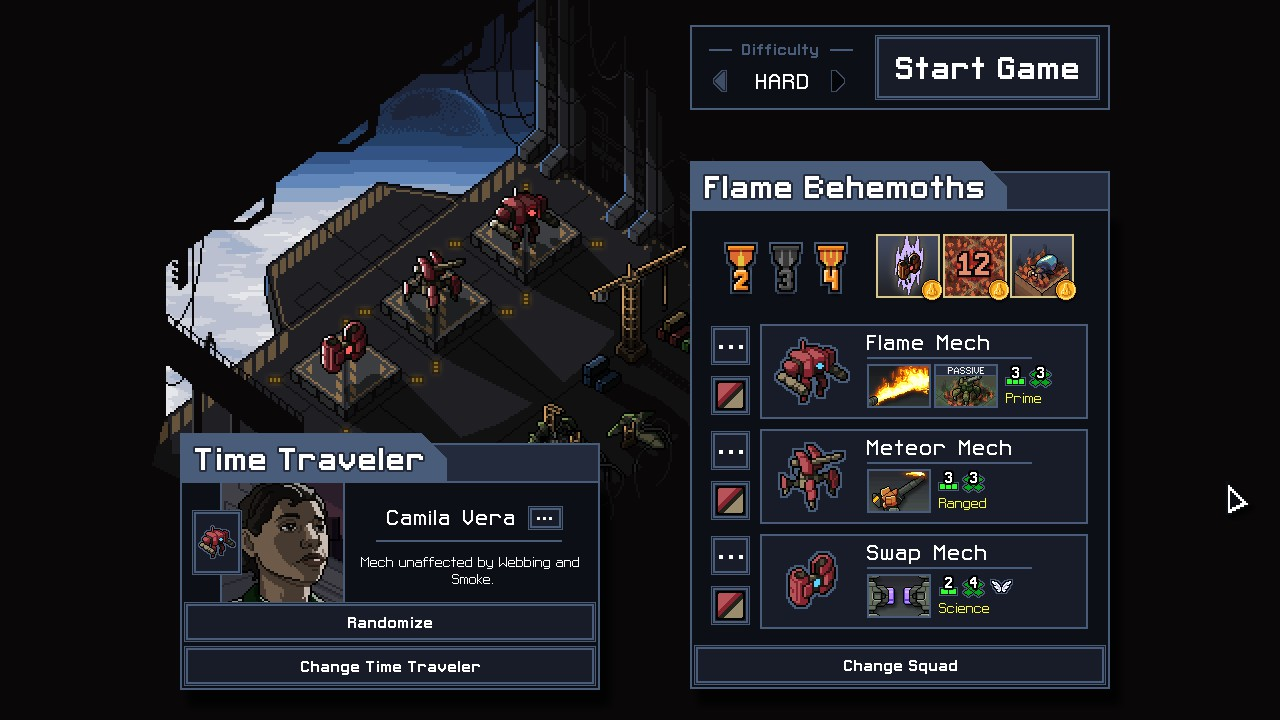 Been a while since I've sat me down and done a straight up screenshot LP, huh?
Anyway, we'll be doing a Flame Behemoths run, with Camila Vera as our main pilot.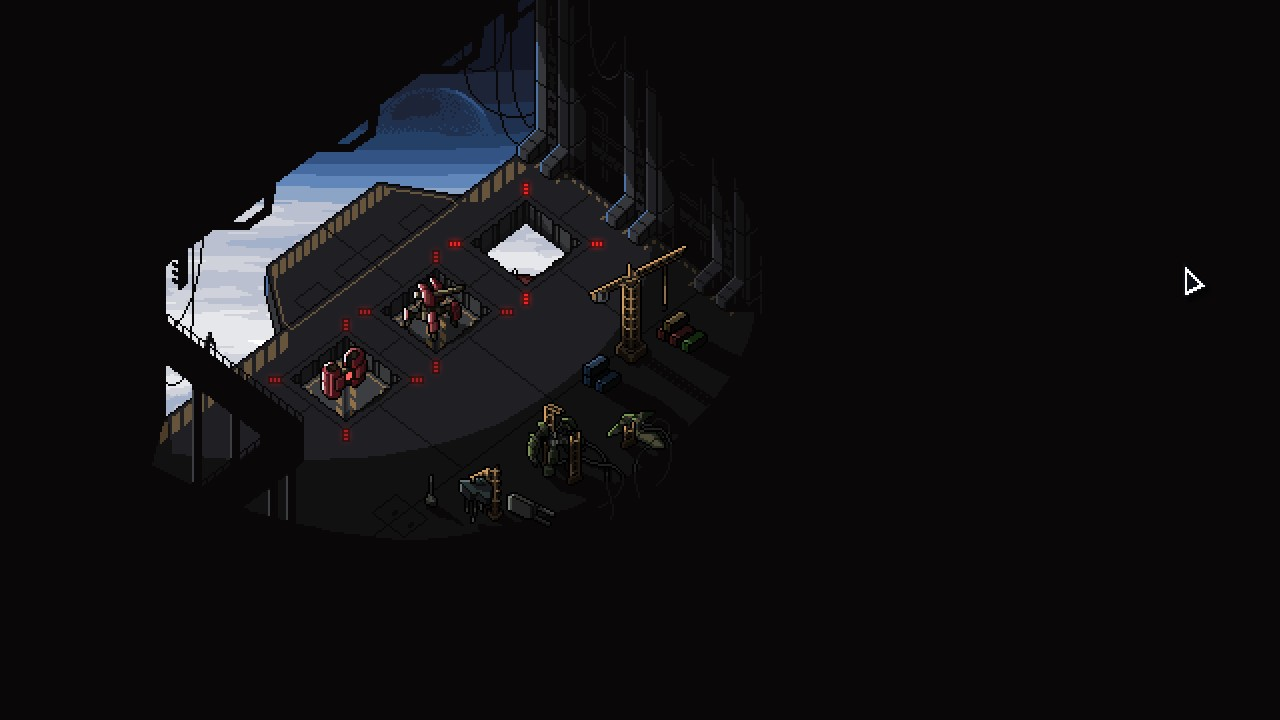 This mysterious hangar isn't very clearly defined as to what, where, or when it is, but you always start a run by launching all of your mechs from here, like so.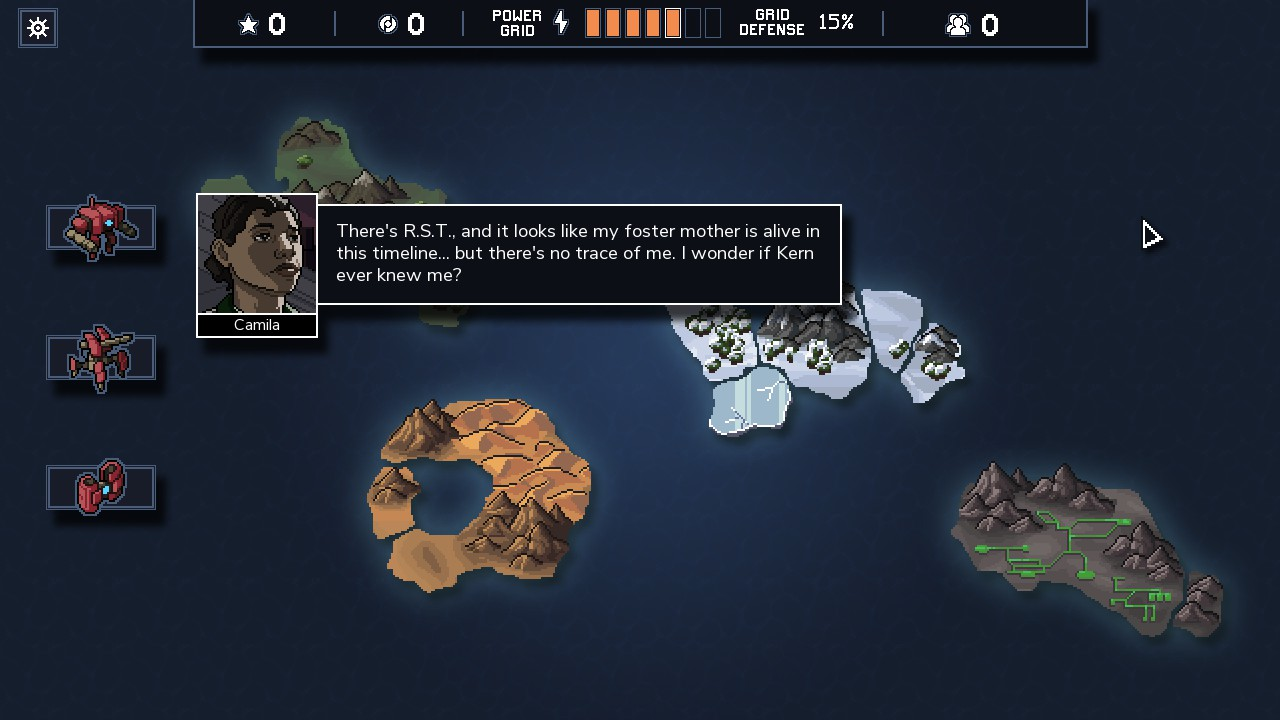 And here's the four Corporate Islands that will serve as the staging area for our conflict with the Vek. Camila's thoughts here are unusually verbose for character backstory in this game, which is interesting because Chris Avellone (yes, THAT Chris Avellone) was brought on as a writer for the game, and there is a ton of crunchy lore about every single person in the story that just never gets a chance to come up.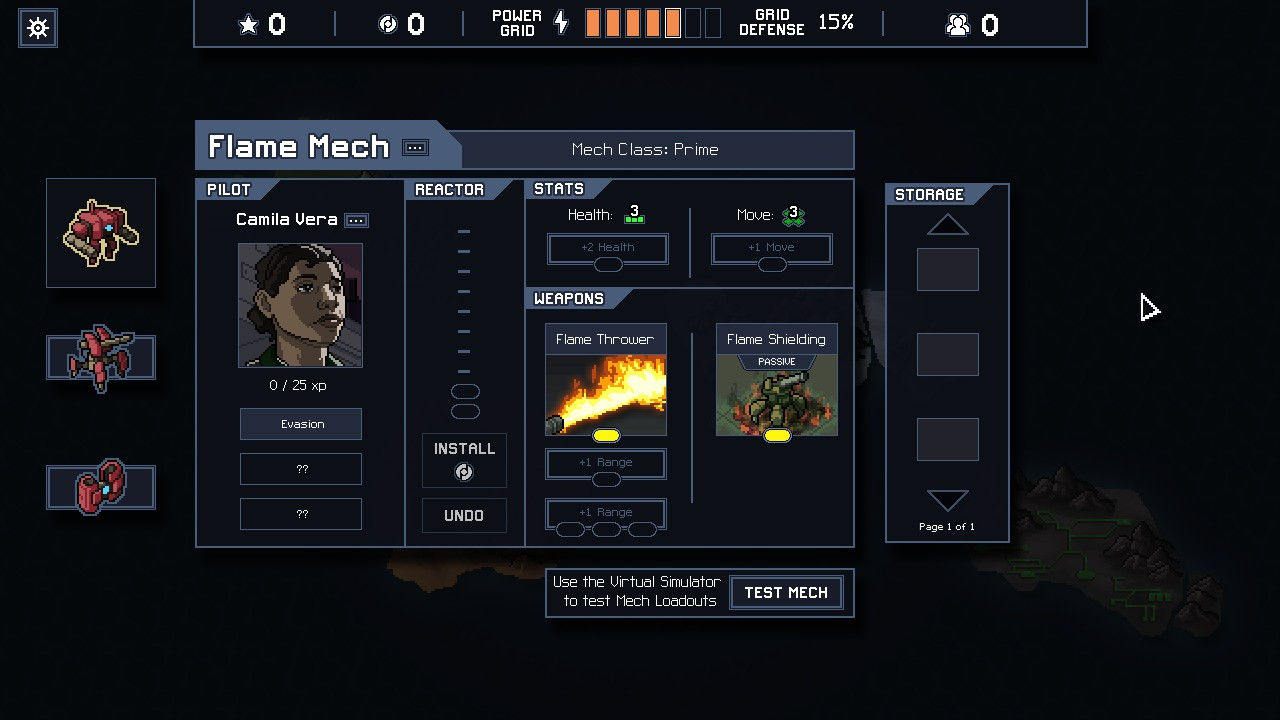 Anyway, let's meet the cast.
Camila Vera is piloting the Flame Mech, where she brings her signature Evasion skill to the table. This skill allows her to ignore the hazards of webs and smoke, one of which will be an actual issue for us this game. She can also learn two more skills with experience, although we don't know what those skills might be yet.
More interesting is the Flame Mech itself. As you can see, it uses FTL's reactor system for how it works: it could have a lot of different stat boosts, but only if we want to spend the reactor power to get them running. At the start of the game, every mech has only the reactor power needed for its default equipment. The Flamethrower is a fine Prime-class weapon, which doesn't do any damage unless the target is already on fire. But hey, the attack sets the target square on fire anyway and pushes the furthest target hit a space!
The Flame Shielding means all of our mechs can ignore the usual effects of fire, which is a straightforward damage over time deal. This isn't strictly required, but it sure is nice! That said, a cautious player might find it better to power this down in exchange for +1 movement.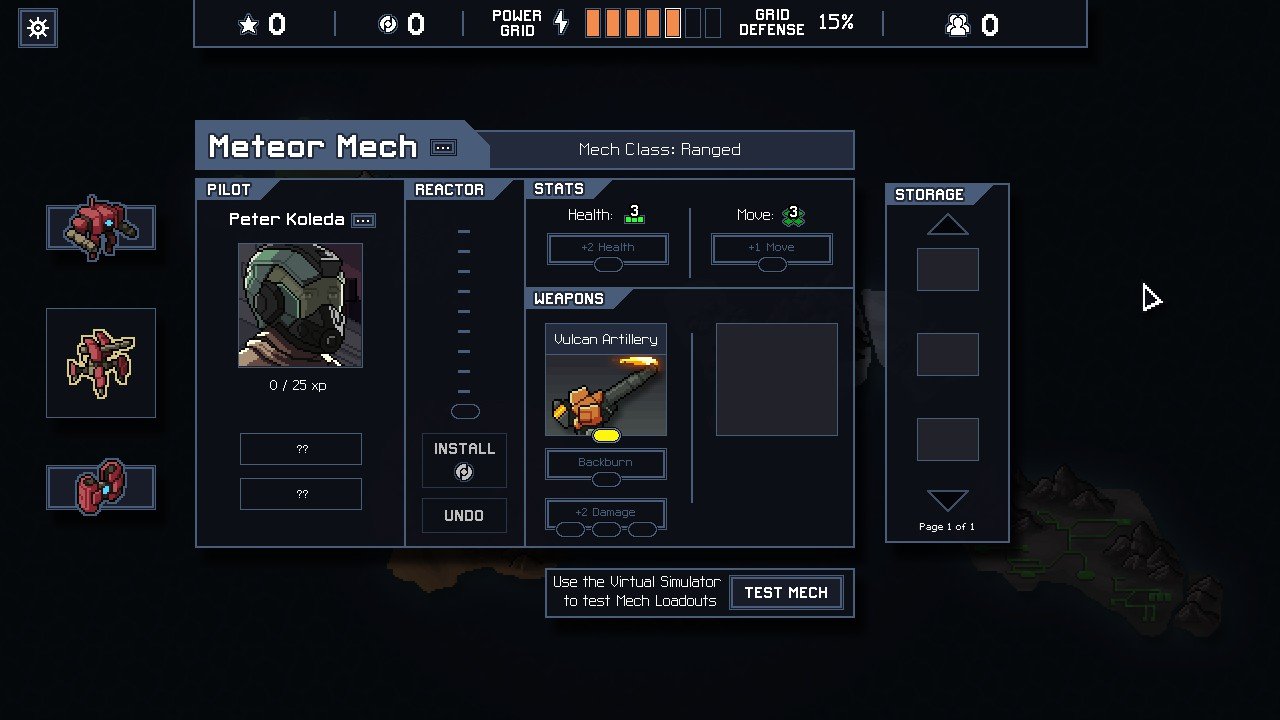 When you start the game, you also get two other pilots randomly generated for your other mechs. They don't have unique skills, and represent employees of one of the four corporations. Peter Koleda here works for Detritus, and he'll be piloting the Meteor Mech. The Vulcan Artillery of this sucker can push enemies around the impact point away from it, while lighting the targeted space on fire. It's a handy utility tool, and once you get that damage upgrade it gets even better. The Backburn upgrade causes the tile behind it to catch fire whenever it fires, which is a double-edged sword in many cases.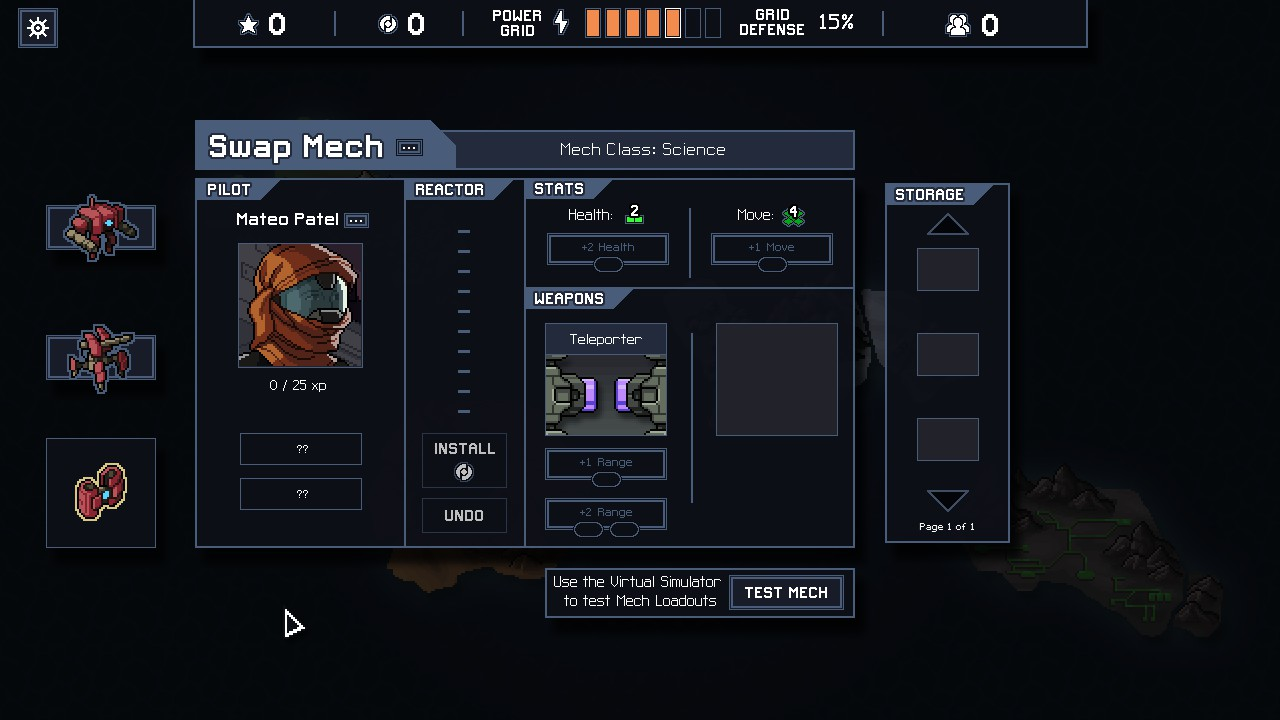 Mateo Patel, representing R.S.T., instead pilots the Swap Mech. Although it's fragile and has no weapons, its high mobility, flight, and Teleporter give it a serious edge that let it disrupt the Vek's attacks quite easily. The Teleporter only starts with 1 range, so those upgrades are crucial to true telprot shenanigans.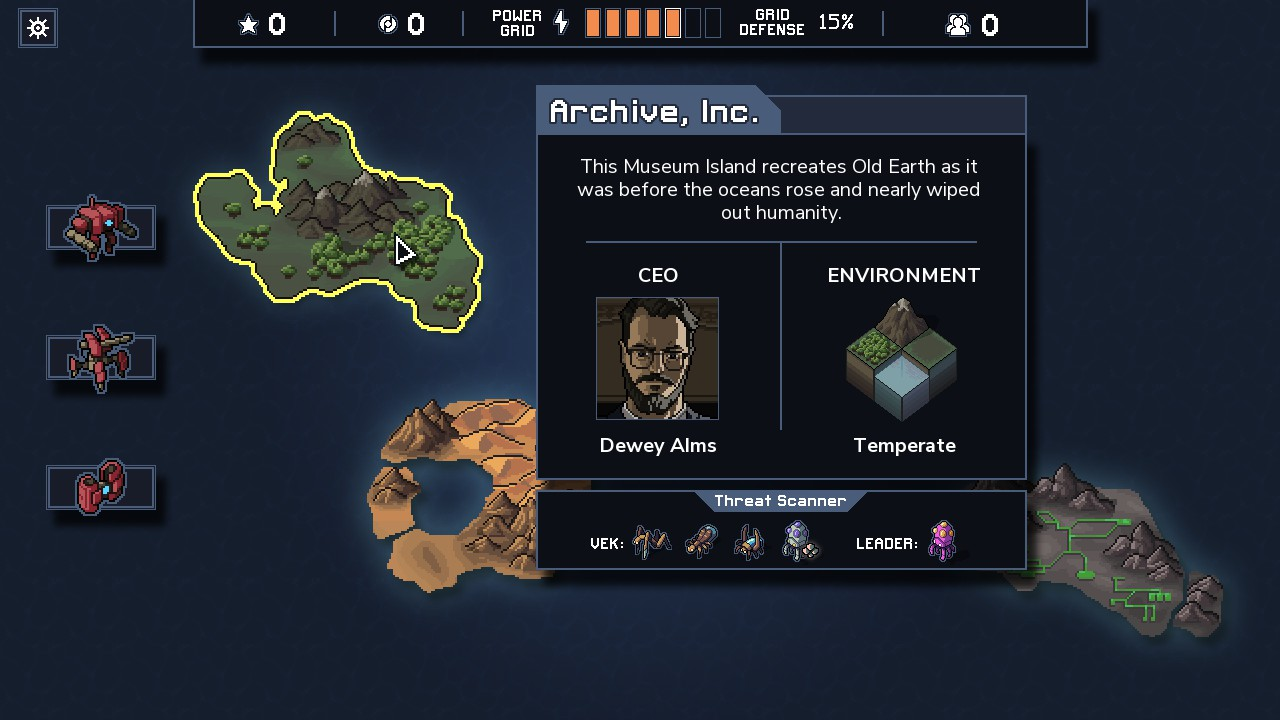 Anyway, we have four islands to choose from. Each has a different biome, randomized enemy set, and selection of missions. Archive, Inc. is the first island players have access to, and covers a very plain and traditional landscape focused on Old Earth tech.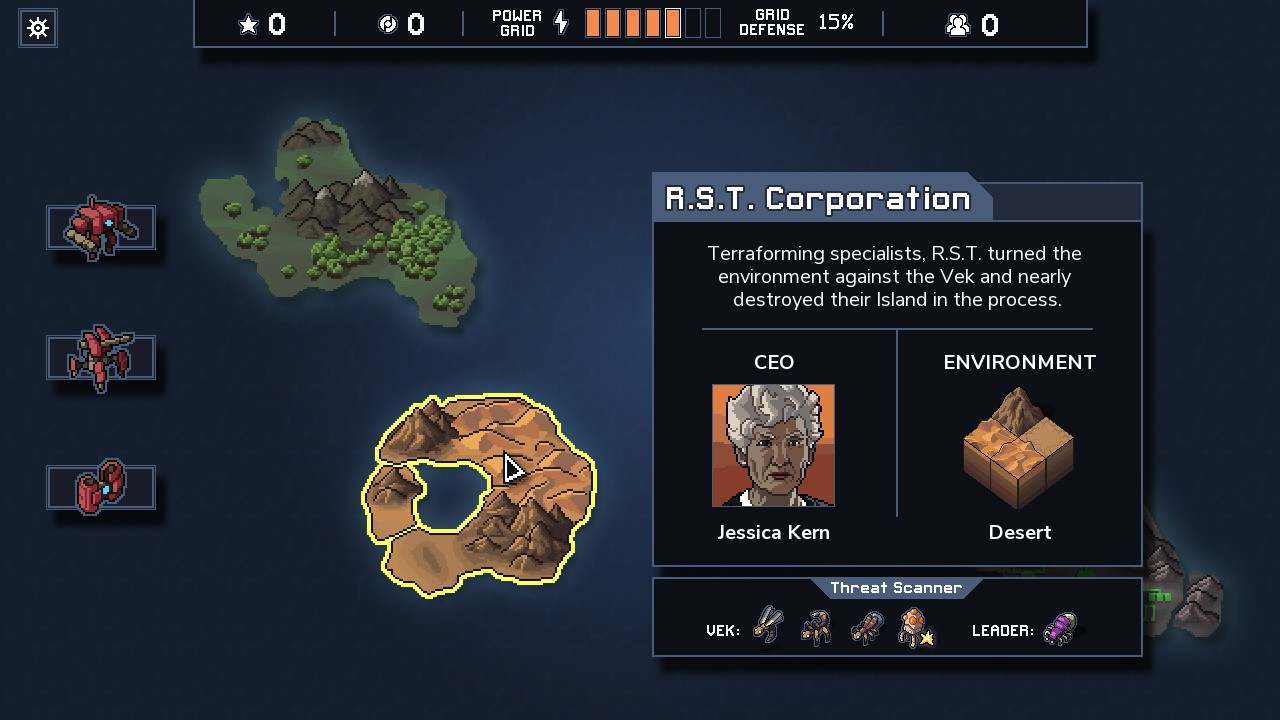 As you clear islands playing the game yourself, you can unlock more. R.S.T. Corporation is second in line, and deals with desert terrain, including quakes, lightning storms, and vast smoke clouds.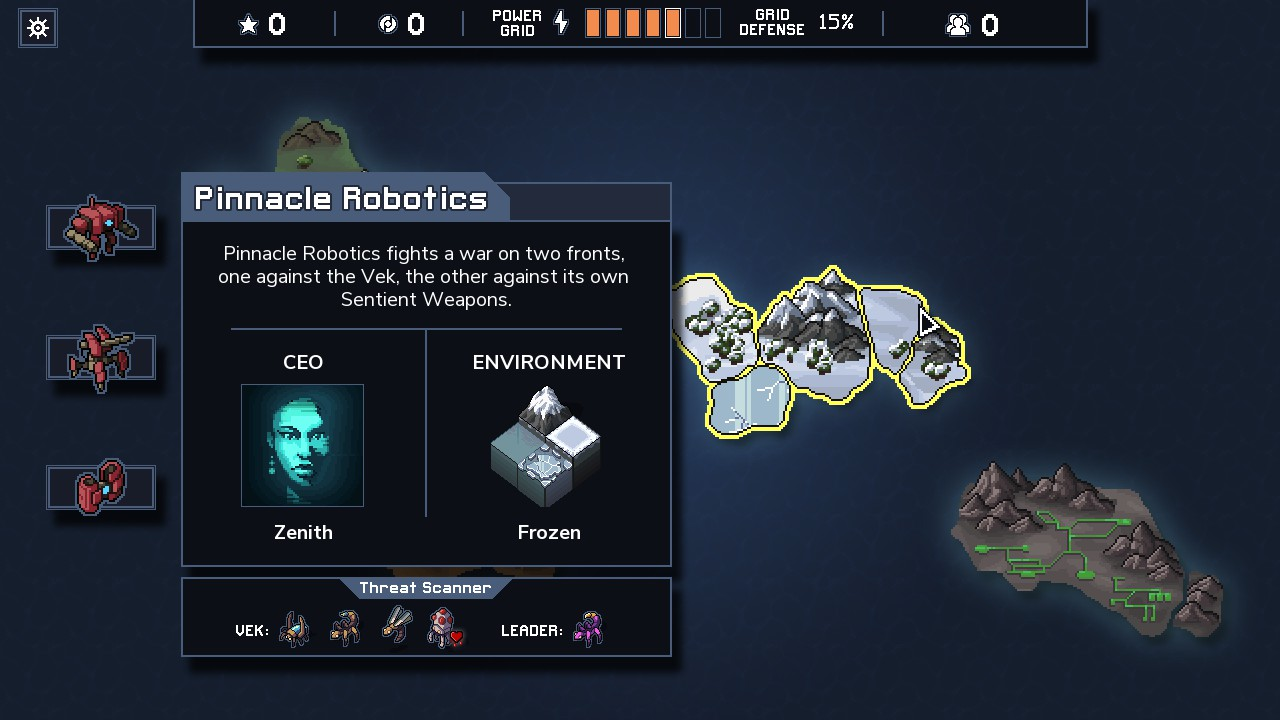 Pinnacle Robotics houses a large AI population, and fittingly thrives in arctic conditions. Ice is the main terrain barrier of the area, to say nothing of the frequently-hostile robotic foes you might encounter.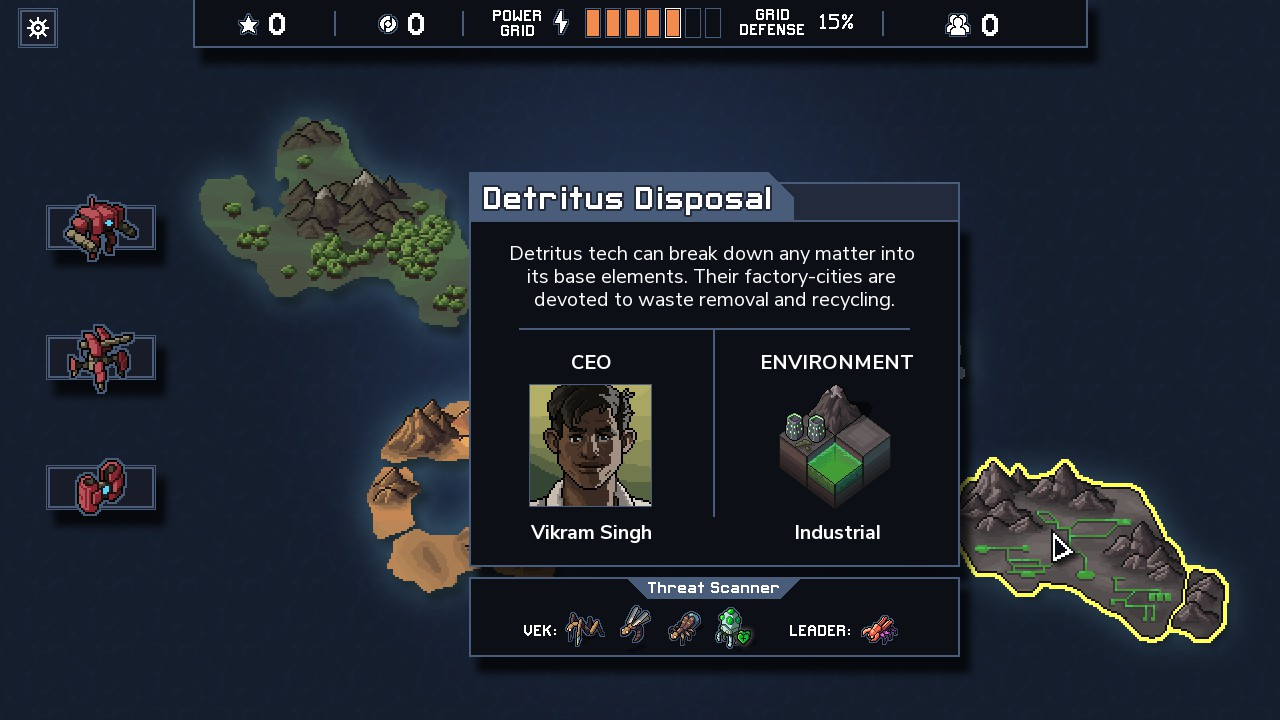 But we'll start out our excursion at Detritus Disposal. You can always see the enemy selection at any island you go for, but once you choose an island, you're stuck there until you clear it out or fail horribly. Ordinarily I would save Detritus for last with the Flame Behemoths, but the reasoning behind my choice will go in the spoilerpop, as it deals with a lot of high level meta nonsense.
Generally, I consider Pinnacle the easiest island for the Flame Behemoths, and Detritus the hardest, because of the associated terrain aspects. Lots of ice means your fire attacks can break the floor out from under most threats, especially with the Meteor Mech, while the A.C.I.D. of Detritus doesn't help you when most of your attacks don't deal actual damage. That said, the enemy sets were especially unkind here: the Shell Psion on Archive would normally make it a gimme, except the boss of that area would be a nightmare. Similarly, Pinnacle's Blood Psion throws that whole mess off, because one of those at the wrong time can be mission-ending. It mostly came down to R.S.T. and Detritus, and the latter was my choice because I figured the Leapers would be easier to handle than the Scorpions, and the boss of Detritus would be slightly easier, although I'm not that worried about the boss of R.S.T. so it might be my second island.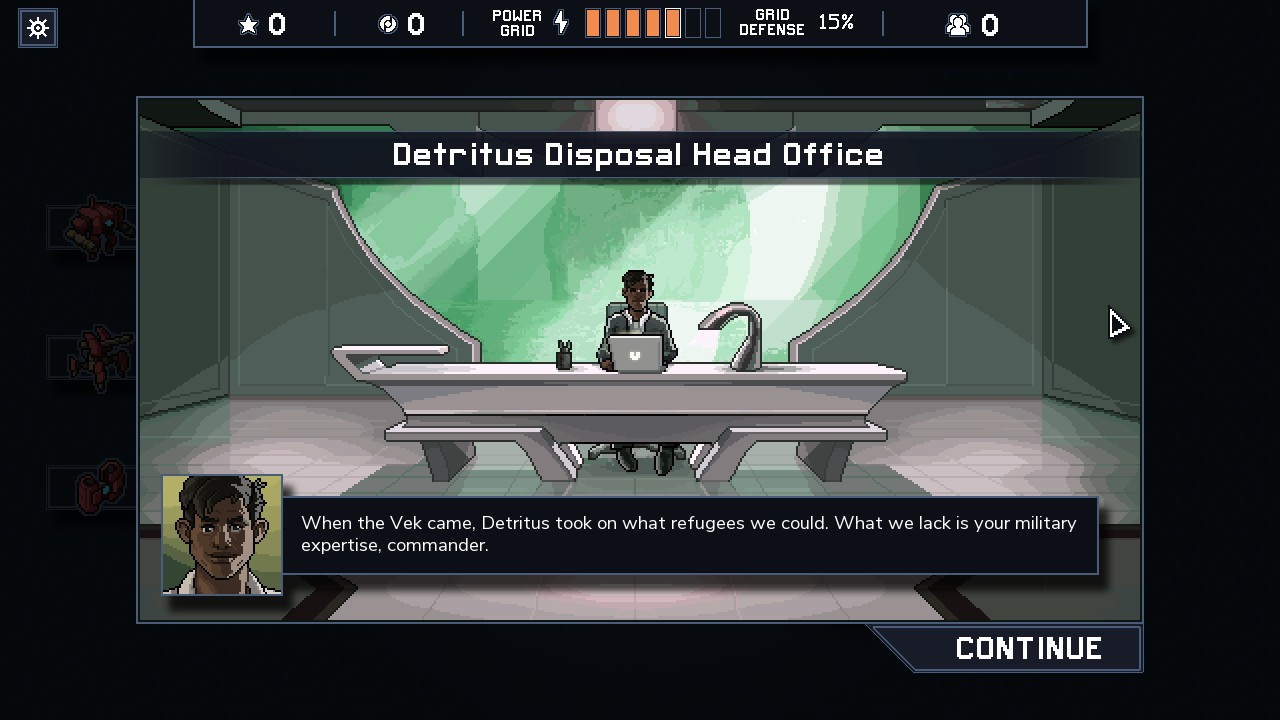 Anyway here's Vikram Singh. It's kind of strange that the last CEO the player would normally meet seems so... plain. But as far as I can tell, Singh doesn't really have much in the way of personality: he is a generically good dude. Which is fine enough, I guess.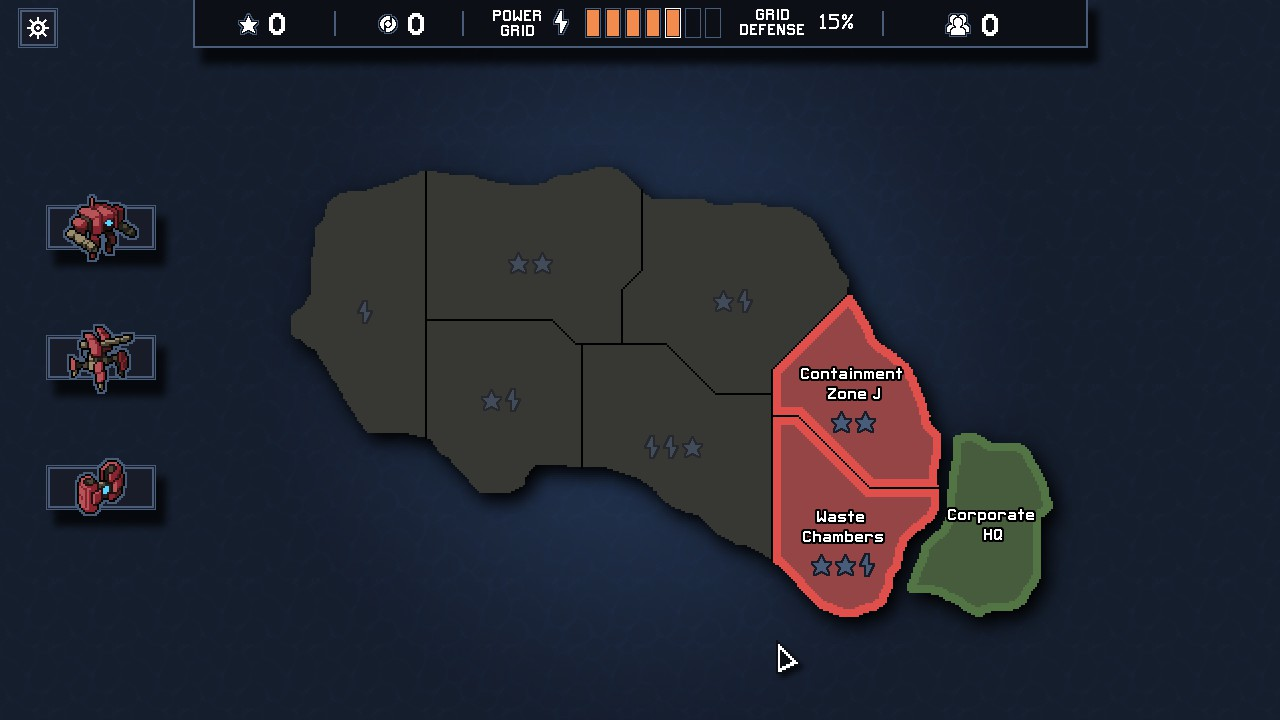 Anyway, the island itself. The red zones represent areas threatened by the Vek, the green zones are ones we've already cleared, and the black ones we can only access after clearing the mission in an adjacent red zone. You could probably have inferred that, though. Each symbol on a space represents an objective: the more objectives, the harsher the resistance you'll face there.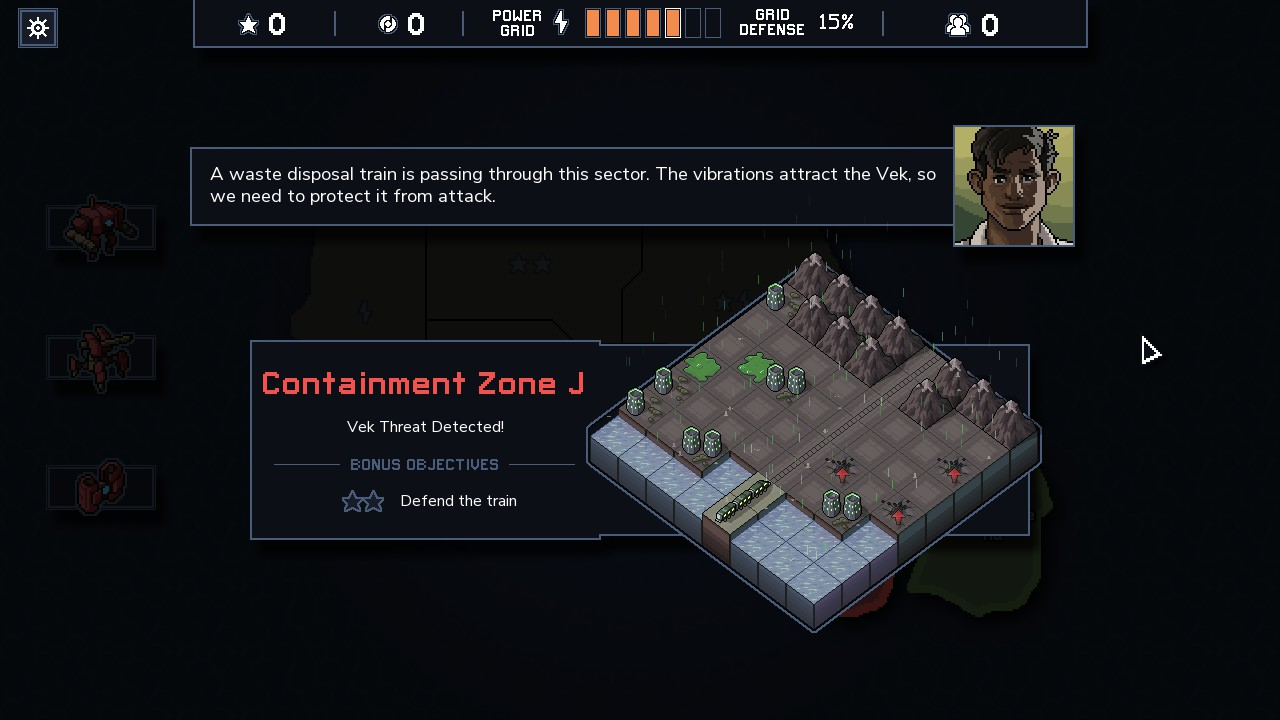 Let's go with a nice simple mission, during which Big Smoke will be there to help us out and not be useless. Train-defense missions are really disliked by a lot of players, but they don't bother me so much for a reason you'll see once we get the ball rolling.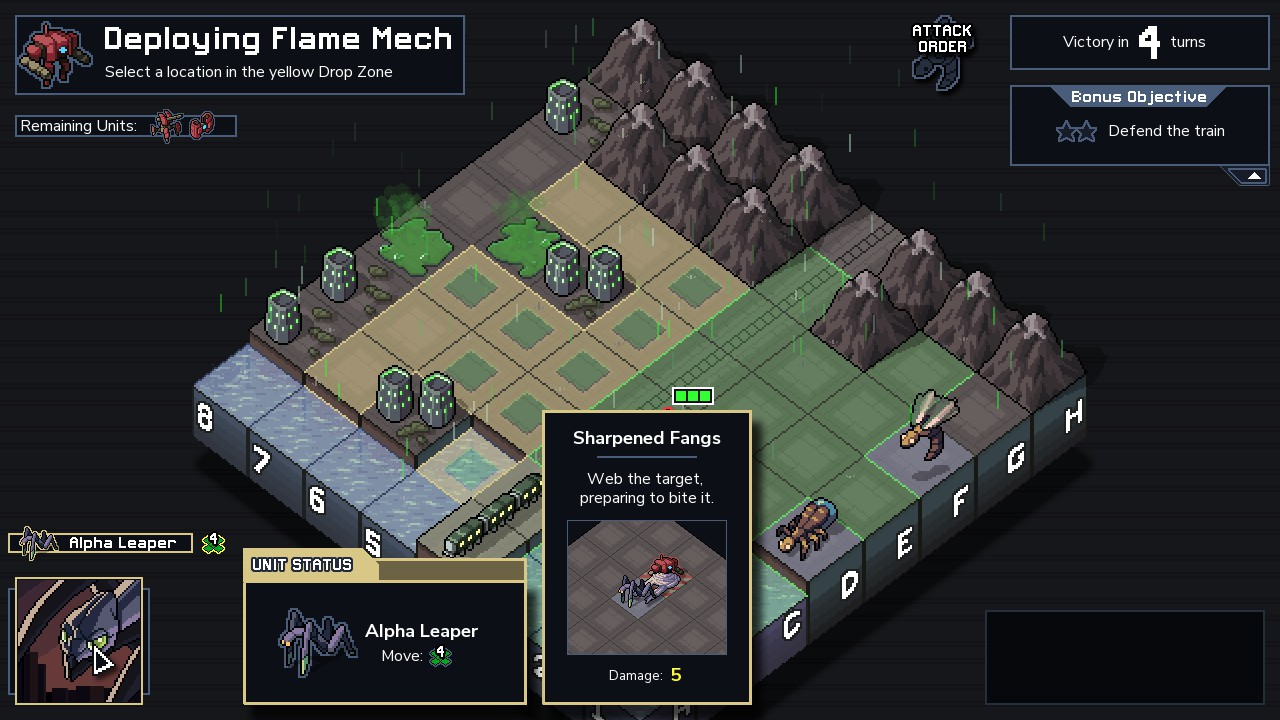 Upon mission selection, Vek burrow out of those crumbly points on the preview, and you can look at all of them. We'll start with the Alpha Leaper. Leapers are characterized by their unusually high mobility and damage, offset by their low health. Alphas have 3, while your average Leaper only has 1. Like most melee enemies, they can web their targets when they aim their attack, restricting their movement. As you can see, this big guy will deal a whopping 5 damage, which is a lot considering most attacks only deal 1. Even normal Leapers get 3 damage attacks.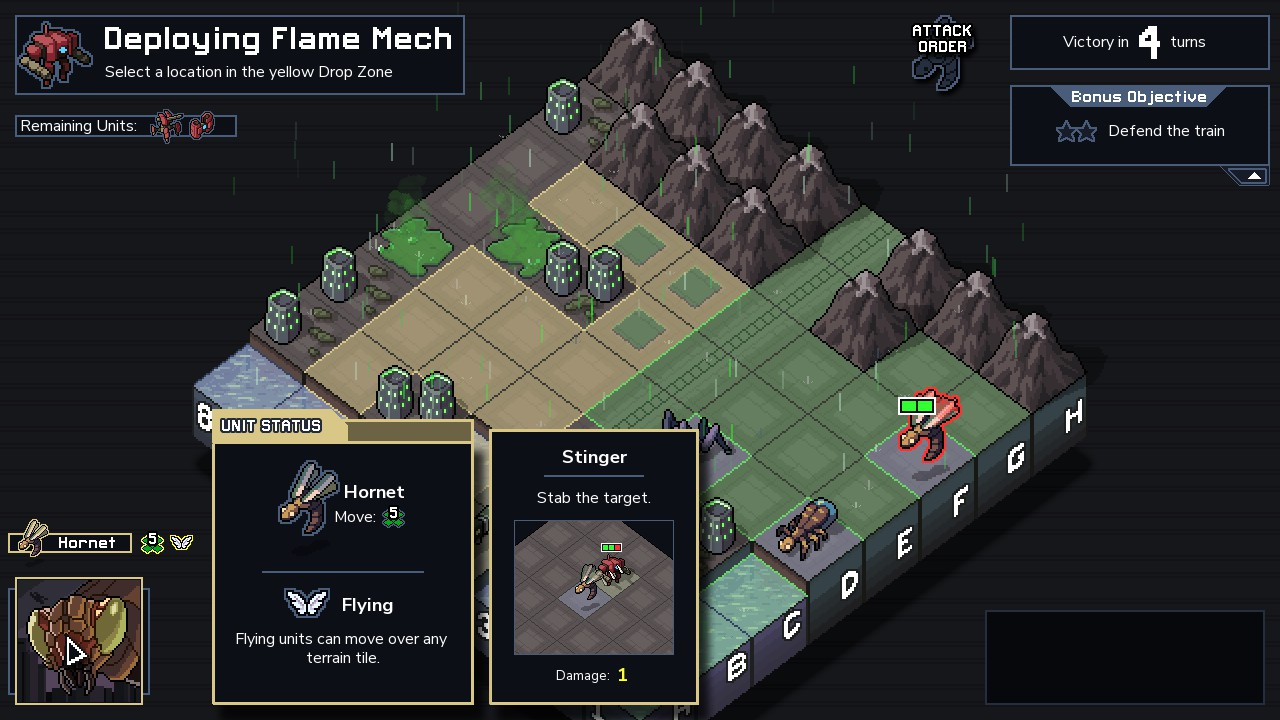 Hornets are pegasus knights. Extreme mobility, but not very sturdy or damaging, and they can't web with their melee attack. Higher-level Hornets are the stuff of nightmares, but these guys barely deserve mention.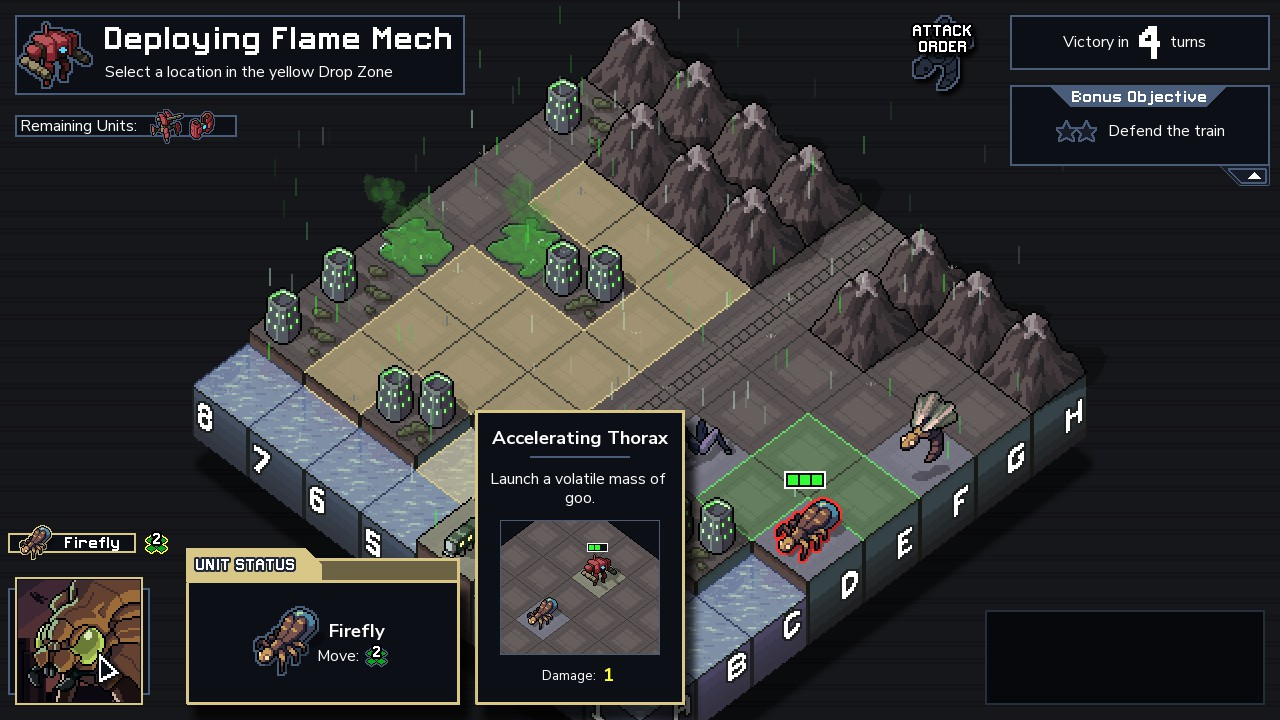 Rounding out the trio, we have the basic ranged enemy, the Firefly. With 3 health, they're hard to bring down, but they have low mobility, and their ranged attack only deals 1 damage. Not flashy, but they're still a threat.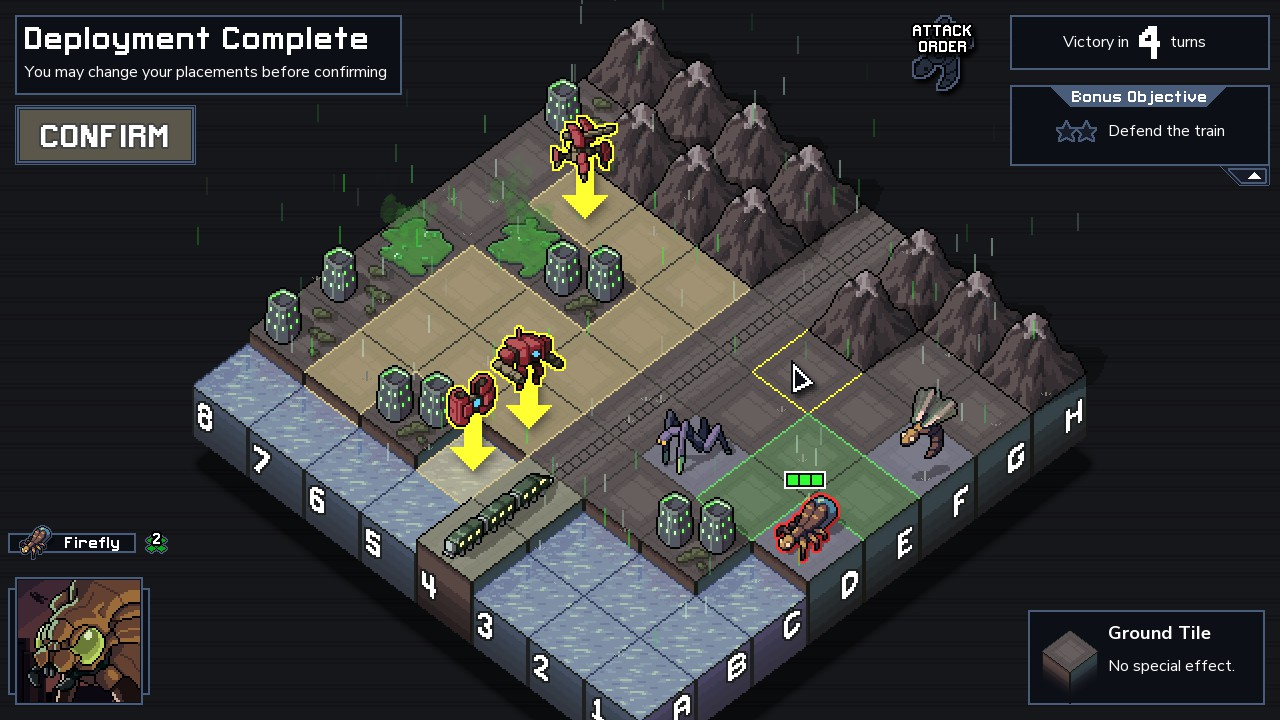 We can only deploy our mechs in the highlighted yellow area, which we do.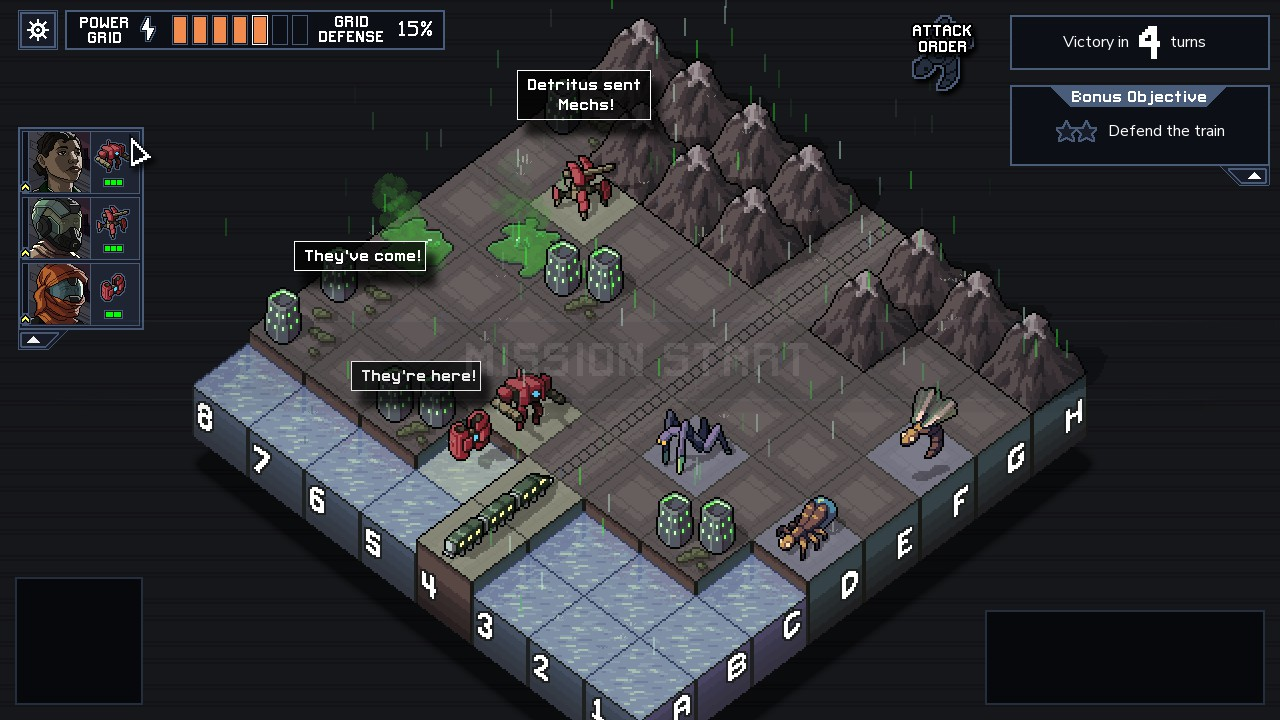 Yeah, see those cheers from those buildings? People live there! It'd be a shame if anything happened to them.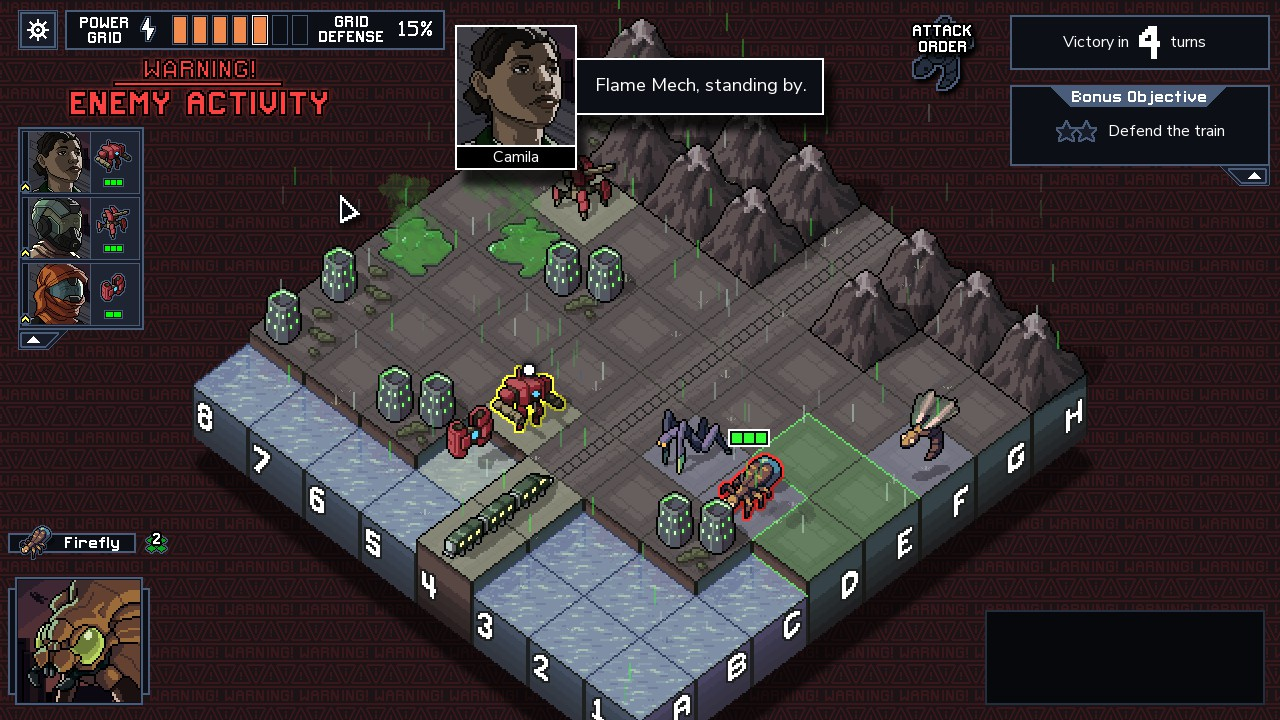 Whoa hey now buddy what do you think you're doing?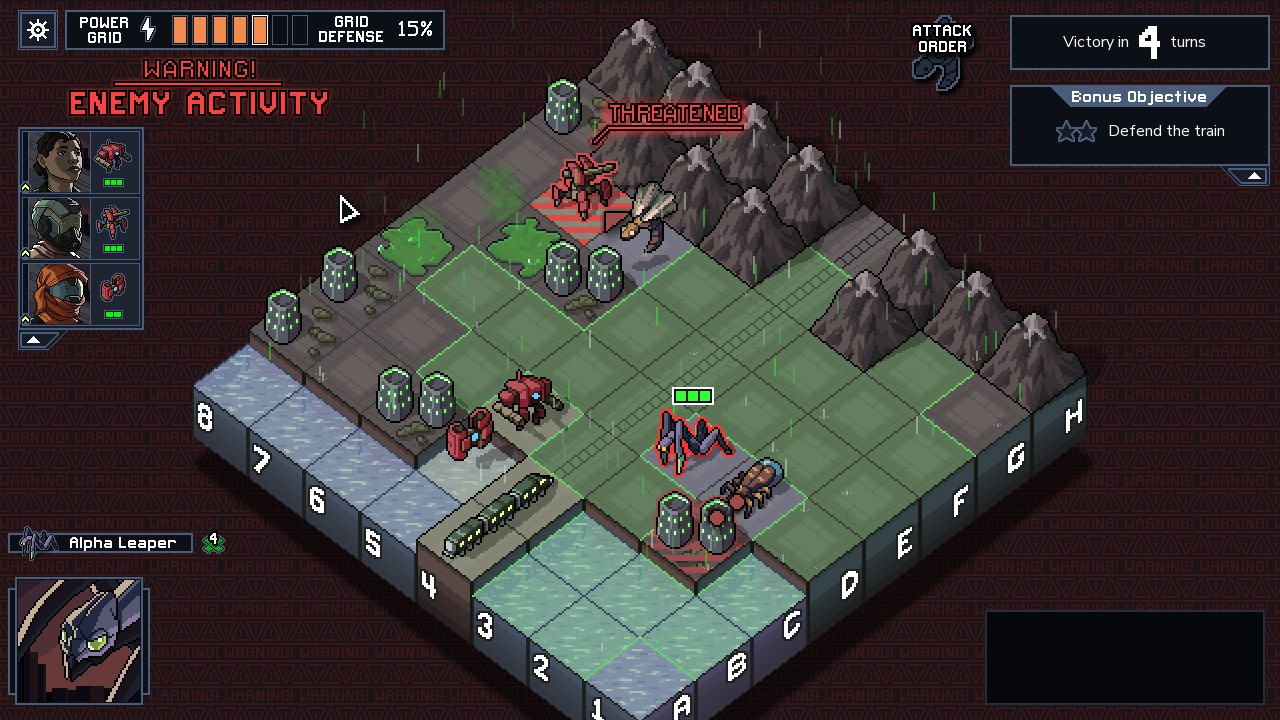 So, the Vek start every new round by queueing up each of their attacks. They don't activate them yet, but they are targeting various things.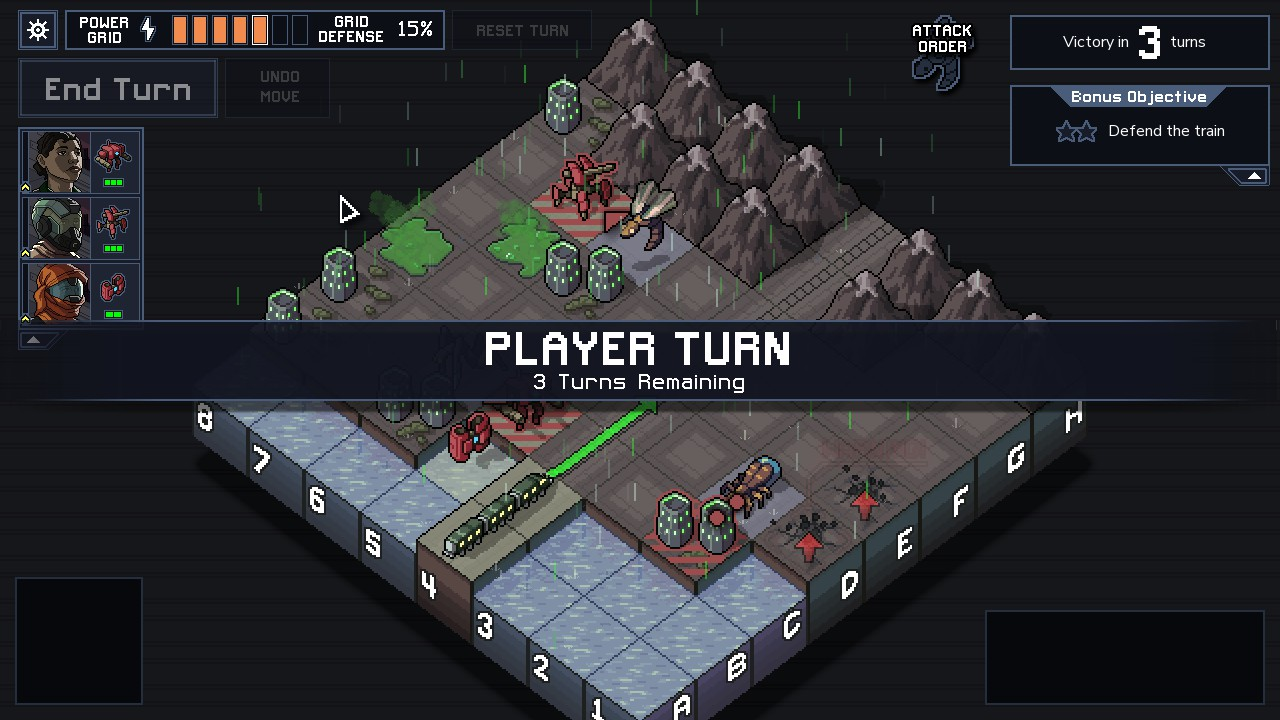 After all Vek have prepared any attacks they can, new spawn points will appear unless it's the last round, and then we can act.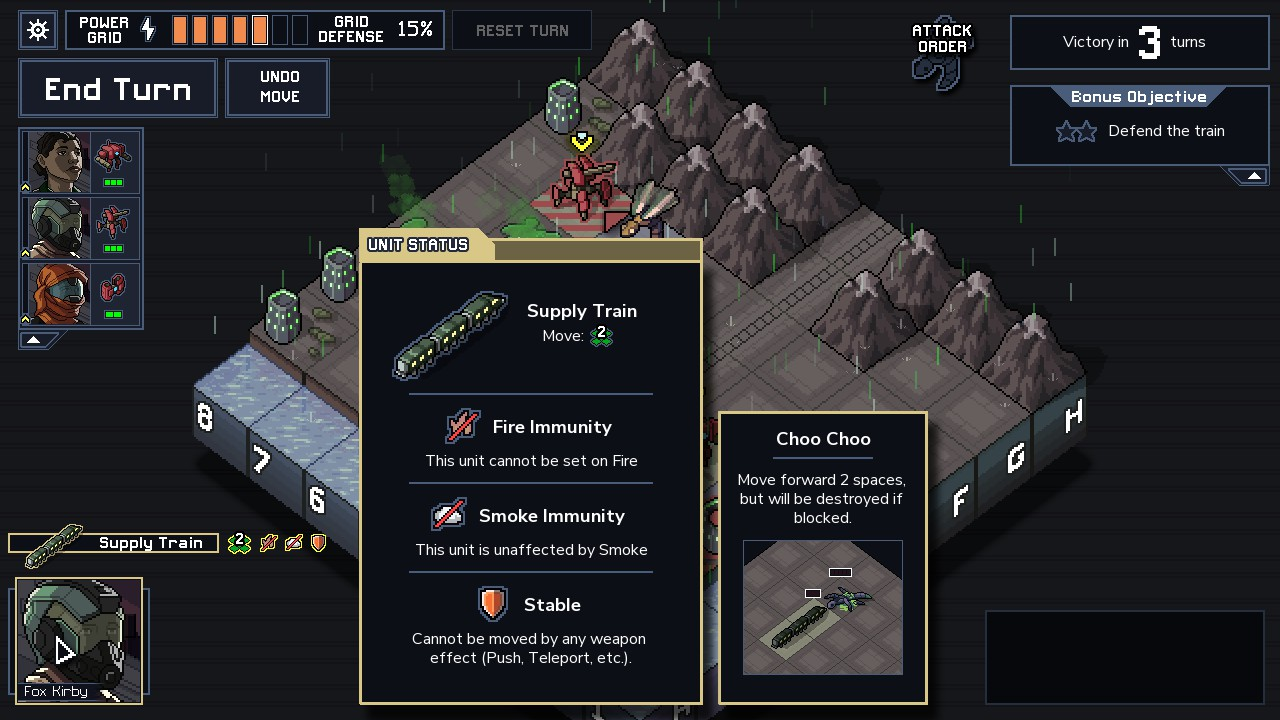 We have only one objective for this mission, but it's an important one. We have to protect this train from every attack and not leave anything in its way to crash it. Since none of the Vek elected to attack it this turn, that's easy, but it can be very hard to protect the train if things get out of hand.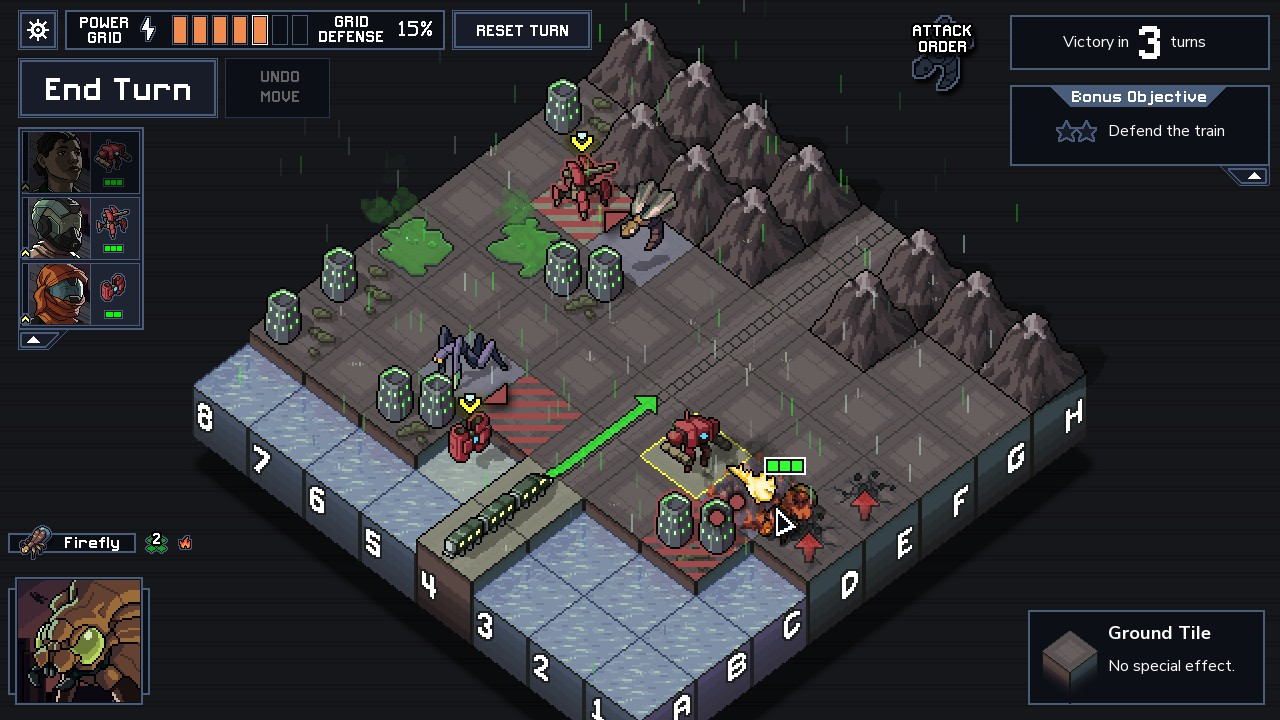 Camila would've been webbed by the Alpha Leaper, but Evasion means she can just walk away, and I have her push the Firefly with the Flamethrower onto the Vek spawn.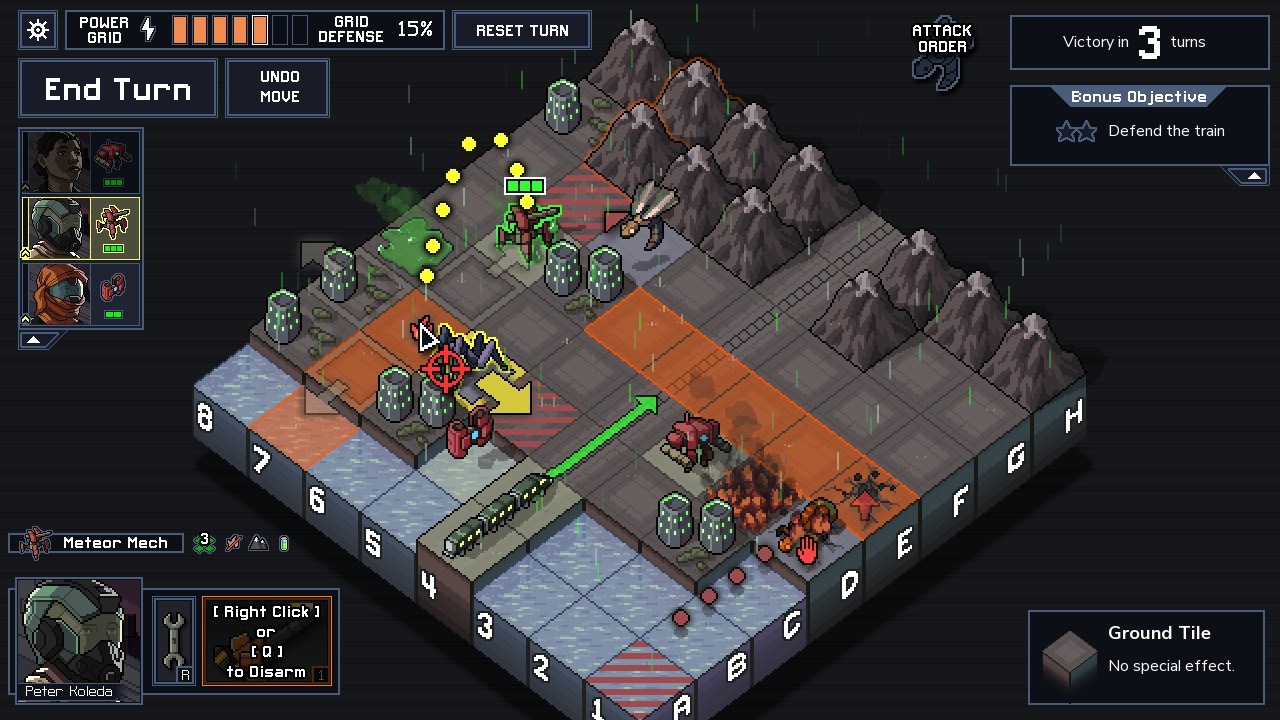 The Firefly remains aiming southwest, which means their turn has been effectively negated. Since the other two enemies aren't targeting anything, my mechs are free to do whatever shenanigans they wish.